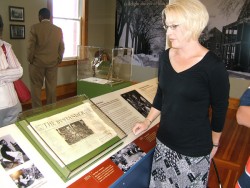 Law faculty and students examine Iowa history at Fort Des Moines Museum.
Iowa has a history of setting precedent. From refusing to recognize slavery within its borders to outlawing segregation in public education 86 years before the U. S Supreme Court did so to being the first place in the Nation to train African Americans and women to be commissioned as officers during war, the state has much to be proud of when it comes to civil rights and public service.
To celebrate Iowa's history of "equality firsts" and to highlight the Law School's commitment to diversity and providing a welcoming environment, the Drake Law School organized a daylong program on Oct. 1 at the Fort Des Moines Museum in conjunction with National Public Interest Day.
The Fort Des Moines Museum was selected because it was the place where Iowa made history by rejecting discrimination and welcoming African Americans and, later, women for officer candidate training.
The program, titled "Civil Rights, Public Service and You," featured keynote speakers who discussed Iowa milestones rejecting and overcoming discrimination on the basis of race and gender, discrimination on the basis of sexual orientation and recent Iowa legislation addressing it. The speakers also emphasized the opportunity and responsibility lawyers have to render public service.
"A lot of landmark decisions have come from Iowa, and many of those Drake has ties to," said Russ Lovell, associate dean of the Law School.
Iowa Supreme Court Justice Mark Cady, LA'75, LW'78, presented the oldest of Iowa Supreme Court's rulings that set the bar high. Cady outlined the decision in 1839 in the case of In re Ralph, which held a slave who by contract had come to work in Iowa was not "property" subject to return to another state and was instead a free man. He compared Iowa's decision to the U.S. Supreme Court's decision to the contrary in the Dred Scott case, which was decided almost 20 years later.
In addition, Cady sketched the Iowa Court's 19th century racial and gender equality decisions. In Clark v. Muscatine School Board, the court struck down segregation in the public schools 86 years before the U.S. Supreme Court declared segregation unconstitutional in Brown v. Board of Education.
The Chief Justice of the Iowa Court, who wrote the opinion in Clark, was the founder of Drake Law School. Cady also noted that Iowa was the first state to admit women to the practice of law. He added that many of the pioneering cases involving issues of race and gender were made possible by lawyers volunteering their time to defend the rights of people in sometimes-controversial circumstances.
"Those lawyers were really doing a public service," said Lovell. "It really took some courage to take those steps."
Another Iowa first, was the founding of the National Bar Association in 1925 by five African American lawyers, including Drake Law graduate Charles Howard, LW'22.
The NBA was created in response to the discrimination against African Americans and exclusion from membership by the American Bar Association. Drake Law School dedicated a new room to house archival material of the NBA in Opperman Hall and Law Library on Feb. 1, 2007.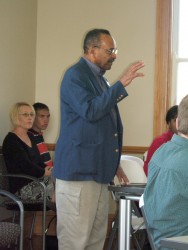 James Bowman speaks at the Fort Des Moines Museum.
James Bowman, a Congressional Gold Medal recipient and one of the famed Tuskegee airmen during World War II as well as being a former Drake professor in the School of Education, told of his friendship with Howard, who was a commissioned officer in World War I following training at the Fort Des Moines.
Bowman, ED'47, GR'49, GR'75, spoke of discrimination African Americans experienced and praised Des Moines' leadership role in the nation's march to racial and gender equality through the commissioning of African Americans and women as officers during World War II.
Drake law professor Maura Strassberg discussed other Iowa equality firsts for women, but also criticized the military's discriminatory policy on sexual orientation. She noted the 2007 amendment to the Iowa Civil Rights Act barring discrimination on the basis of sexual orientation and stressed Drake Law School's policy that likewise bars such discrimination.
The policy on discrimination is just one example of the Law School's and Student Bar Association's commitment to diversity, to providing a welcoming environment for all, and to public service, explained Sean Bagniewski, president of the SBA.
Bagniewski also pointed out that Iowa was the first state to establish a bureau of refugee resettlement, an agency created under the leadership of former Iowa Gov. Robert D. Ray, BN'52, LW'54. Ray played a key role in making it possible for thousands of Southeast Asian refugees to emigrate to Iowa in the wake of the Vietnam War.
"I was fortunate enough to be asked to speak about the public service achievements of one of our greatest alumni, former Gov. Robert D. Ray, and his leadership during the refugee crisis following the Vietnam War," Bagniewski said.
Bagniewski later commented, "As students, we were given the opportunity to learn about public service outside the classroom, from people who had dedicated their lives and careers to their communities. I, for one, was incredibly humbled to share the stage with them. For all of us, it really reinforced what it means to be a member of the legal profession and all the important obligations that go with it."