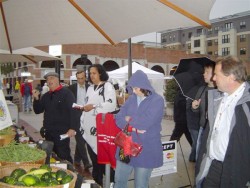 Conference participants tour the Drake Neighborhood Farmers' Market with professor Neil Hamilton, right.
At its Midwest Clinical Conference on Oct. 12-14, Drake University Law School's Legal Clinic hosted keynote speakers and legal clinic faculty from all over the Midwest to explore key topics.
Among them were "Real World Professionalism in the Law School and Beyond," "First Year Trial Practicum: Panel Discussion," "Legislative Practice: Is Success or Failure a Better Learning Experience" and "Training of Clinicians."
"The Drake Legal Clinic was honored to host this conference of clinical professors from law schools throughout the Midwest," said Jerry Foxhoven, director of the clinic. "We especially enjoyed the opportunity to show off our facility and to tell other law professors about the many unique opportunities that the Drake Law School offers its students to make them better prepared to practice law."
The conference featured guest speakers Larry Eisenhauer, judge of Iowa Court of Appeals; Arthur Gamble, chief judge of the Fifth Judicial District of Iowa; Polk County Attorney John Sarcone; and Des Moines lawyers Megan Erickson and John Moorlach.
These presenters participated in a panel discussion on Drake's one-of-a-kind trial practicum program, which gives first-year law students the opportunity to experience actual trials. The practicum took center stage at the conference.
"Our program spurred a lot of discussion," Foxhoven said. "A lot of other schools would do it if they could. We have support with the judicial branch that has declared the courtroom an official court site and support from the chief judge and jurors. Also, our law faculty members are willing to give up a week of classes so first-year students get the experience in court."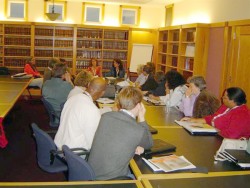 Legal clinic faculty gather to discuss how to better prepare students.
The conference featured Drake faculty members including:
•    Law School Dean David Walker
•    Legal Clinic Director Jerry Foxhoven
•    Professor Sally Frank
•    Associate Professor Lisa Penland
•    Professor and Director of Legal Writing Melissa Weresh
•    Associate Professor Robert Rigg
•    Professor and the Dwight D. Opperman Chair of Law Neil Hamilton
•    Visiting Professor Gordon Allen and the Richard M. and Anita Calkins Distinguished Professor Matthew Doré
Other topics discussed were:
•    Weaving a Commitment to Better Writing Throughout Clinical Legal Programs
•    Discussion on Buy Local Issues
•    Carnegie Report and Skills Training
•    Expansion of Skills Training to Newer Areas
•    Civil Disobedience Representation from the Perspective of the Clinician, the Student and the Client
•    Involving Students in Post-Katrina Work- The Carnegie Report in Action
•    Teaching Students How to Find Facts