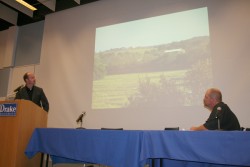 Mike and Dan DeCook present how they restored their farmland to its natural state.
From an all-Iowa art show to a trip to San Diego, Drake Law School's Agricultural Law Center is celebrating its 25th anniversary with myriad events and special guests.
'Rural Lands Rural Livelihoods' conference
The "Rural Lands Rural Livelihoods" conference featured outstanding speakers from the farm to the state government — all with different agendas but one common interest, the state of rural Iowa. Iowa policy makers, landowners, rural businesses and members of food, agricultural and environmental institutions gathered on Sept. 20 and 21 to explore ways to use land and natural resources to revitalize rural Iowa.
Some of the outstanding speakers included:
Mike and Dan DeCook, organic and grass finished beef ranchers, who addressed the role that private landowners have in revitalizing rural Iowa by protecting the wild nature of the land.
Tom Buman, with Agren Inc., a private agricultural and environmental consulting company located in Carroll, who is working to contact absentee landowners who make up a large percentage of landowners in rural Iowa;
Former Iowa Gov. Tom Vilsack, visiting distinguished professor of law at Drake, who talked about the next steps for Iowa and how to meet the needs of landowners so they can better utilize natural resources.
Rep. John Whitaker from Hillsboro, Iowa, and Sen. Dennis Black from Grinnell, Iowa, who spoke about challenges legislators face in creating opportunities for economic development, and in supporting rural businesses and farmers.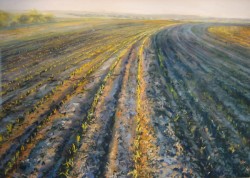 "Young Corn" by artist Bobbie McKibbin was one of 80 works submitted for the juried art show.
'Rural Lands Rural Livelihoods Art Show'
In addition to the conference, the center sponsored the Sept. 20 " Rural Lands Rural Livelihoods Art Show," in which more than 30 professional and amateur visual artists submitted 80 pieces of artwork to showcase rural Iowa in categories including restoration of native prairies, wineries, wildlife and natural landscapes.
"Art about rural America is important because the subject is rooted in American tradition, but very seldom portrayed by artists in the contemporary art scene," said Ignatius Widiapradja, associate professor of art at Drake and owner of Padma Gallery in Des Moines.
Widiapradja and Lea Rosson DeLong, art historian and curator, Des Moines, judged the competition. Cash prizes totaling $1,200 were presented to winners, including John Preston, Margaret Whiting and L. Middleswart. The center purchased two pieces of artwork for the school: "Feed the Hungry" by Jane Robinette and "Commentaries on American Law (As a General Rule)" by Margaret Whiting.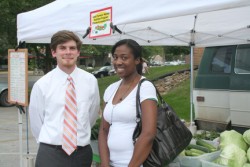 William Perreault and Isha Plynton at the Drake Neighborhood Farmers' Market.
Hunger Fellows join Drake Agricultural Law Center
The center is also celebrating the addition of two Bill Emerson National Hunger Fellows for the 2007-08 academic year, who are working on public policy and anti-hunger projects with Professor Hamilton and Sue Roberts, LW'03, an expert on food and nutrition and a consultant to the center. Drake is one of just 13 sites selected nationally to host Hunger Fellows, and Drake's fellows were selected from a 20-member class from a pool of more than 250 applicants.
Isha Plynton, a 2007 Tufts University graduate from Providence, R.I., and William Perreault, a 2007 Davidson College graduate from Chapel Hill, N.C., will spend six months in their field placement at Drake and then six months with national organizations combating hunger in Washington, D.C.
This fall, Plynton and Perreault have helped to develop a non-partisan voter's education guide to identify each presidential candidate's stance on hunger issues, to help prepare voters for the 2008 election. Plynton is working with the Joan and Lyle Middleton Center for Children's Rights on an anti-hunger project for clients, and Perreault is doing research for the Iowa Department of Education's Summer Food Service program.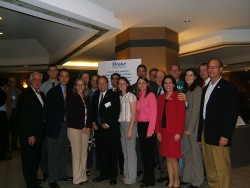 Drake faculty, alumni, AALA members and students celebrate Drake's relationship with AALA.
American Agricultural Law Association, San Diego
The 2007 annual meeting of the American Agricultural Law Association presented an opportunity to celebrate Drake's historic connection with AALA.
Neil Hamilton, director of the Agricultural Law Center at Drake, is the only member of the association to have attended all 28 of the organization's meetings.
In October, Drake took a delegation of ten students and staff who were joined by over a dozen Drake alumni members of the AALA and other alumni from the southern California area.
The Drake Journal of Agricultural Law has published proceedings from the AALA meetings since the Journal's creation 12 years ago.
To recognize Drake's relationship with AALA, the Law School, Center and Journal sponsored an evening reception in San Diego for more than 180 lawyers, guests and alumni who attended the 2007 annual meeting.
AALA President Roger McEowen, LW'91, and former President Steve Halbrook, LW'79, attended the event.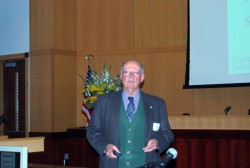 John Baker encourages succession planning for successful farms.
International workshop explores 'The Role of Law in Promoting Sustainable Farming & Rural Development'
Scholars from ten countries around the world, namely the United Kingdom, Argentina, Canada, India, China, Germany, Ethiopia, France, Italy and Japan, came together on Oct. 15-16 at Drake to discuss perspectives on sustainable farming and rural development.
Drake alumnus John Baker, administrator with the Beginning Farmer Center at Iowa State University, delivered a presentation on succession farming. He stressed the importance of developing a succession plan and training the successor to keep farms in business and ensure a successful future in farming.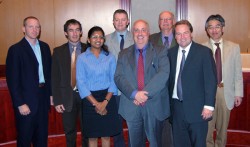 From left: Anthony Schutts, Nebraska; Luc Bodiguel, France; Bhargavi Motukuri, India; Chris Rodgers, U.K.; Dominico Viti, Italy; John Baker, Iowa; Neil Hamilton, Iowa; Shunsuke Yanagimura, Japan.
Other keynote speakers discussed farming in their region and improvements that are being made, such as a change in policy or an irrigation system.
Scholar Shunsuke Yanagimura, professor of farm business management at Miyagi University in Japan, shared the Japanese perspective in a presentation on the history and the decline of Japanese agriculture since the 1990s. He described the decrease in interest in agriculture among young farmers and the increase in abandoned farmland. Yanagimura also offered several proposals for revitalizing agriculture, including focusing on staple crops such as rice, and increasing the number of and reorganizing certified family farms and community farms.
The workshop also featured all-Iowa lunches with "Buy Fresh Buy Local" and sustainable Iowa foods. The meals provided dishes with fresh foods from Iowa farms, including Iowa Orchard, Coyote Run Farm, Sunstead Farm, Growing Harmony Farm, Berry Patch Farm, Cleverly Farms, Turtle Farm, Kalona Organics and Naturally Iowa.
The center also hosted a banquet to honor the memory of Louis Lorvellec, a former visiting professor who taught at Drake as part of
an exchange program with the University of Nantes, and who was instrumental in helping to establish and launch the Law School's Summer in France Program. His widow, Soizic, attended the workshop and banquet.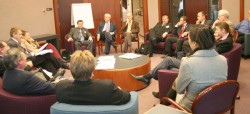 The Ukrainian delegation poses questions to Drake faculty.
International Law Week
In addition, to celebrate International Law Week, Drake hosted guests and scholars from more than 10 countries around the globe to share international perspectives.
Ukrainian Lawyer Delegation
As part of the international week, the Law School also welcomed a Ukrainian delegation on Oct. 18, sponsored by The Iowa Sister States, a volunteer organization that supports Iowa's connection with the global community by hosting exchange programs between Iowans and sister states.
The delegation, made up of eight lawyers, two facilitators and one translator, met with Drake faculty and administrators to discuss the American judicial system and share Drake and Ukrainian lawyers' areas of expertise.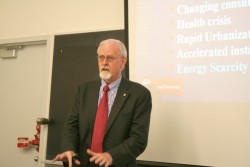 2001 World Food Prize Laureate Per Pinstrup-Andersen addresses world hunger issues.
2001 World Food Prize Laureate
In addition, 2001 World Food Prize Laureate Per Pinstrup-Andersen, the H.E. Babcock professor of food, nutrition and public policy at Cornell University, delivered a lecture on collective action to improve human health and nutrition through global food policy.
Pinstrup-Andersen stressed the distance food travels from where it is produced to where it is consumed, and encouraged more local, sustainable food production. "We need to internalize environmental costs to what we are doing," he said.
He also noted that farmers need incentives, regulations and knowledge, and that food policy may have a different design for each situation. For example, when technology changes, problems may develop that differ from low-income to middle-income regions.
As the world's population increases, food production has also increased, but a lot of people lack access to the food that's produced, he said, adding that one in seven people worldwide don't get enough to eat.
A native of Denmark, Pinstrup-Andersen received the World Food Prize in 2001 for his outstanding contribution to food policy, agricultural research and work in reducing poverty figures worldwide.