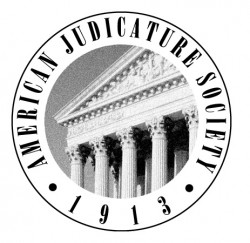 CONTACT: Tim Eckley,
teckley@ajs.org
;
Tory Olson, 515-271-1834;
tory.olson@drake.edu
Drake Law School has teamed up with the American Judicature Society to present "Justice at Home and Abroad: The Importance of the Rule of Law." The event, which is free and open to the public with registration, will take place from 2 to 5 p.m. Wednesday, Nov. 28, in the Des Moines Central Library, 1000 Grand Ave.
The program will explore the meaning of the rule of law and its impact on immigration, why it matters in a global economy, what can be learned from countries developing justice systems based on the U.S. judicial model and how to safeguard the rules of law at home and abroad.
There will be sessions on various topics relating to the rule of law as well as a panel of judges and attorneys who will discuss the rule of law. The panel participants will be:
Judge John R. Tunheim, U.S. District Court for the District of Minnesota
H. William Allen, Allen Law Firm, Little Rock, Ark.
Elizabeth A. Nelson, V.P. Kemin Industries Inc., Des Moines
Roger A. Nowadzky, city attorney, Marshalltown, Iowa
Lori T. Chesser, chair of the Davis Brown Law Firm Immigration Department, Des Moines
Judge Larry Eisenhauer, Iowa Court of Appeals, who will moderate the program
The program agenda is listed below:
2 p.m. — Welcome by Drake Law School Associate Dean Russell Lovell and AJS Executive Vice President Seth Andersen.
2:10 p.m. — Developing the Rule of Law in Developing Countries by John Tunheim
2:30 p.m. — Multi-Disciplinary Rule of Law Conferences at Home and Abroad: What the ABA is Doing and Why by William Allen
2:50 p.m. — Reliable Legal Systems and Commerce: Inseparable Pathways for Global Business by Elizabeth Nelson
3:10 p.m. — Break
3:25 p.m. — Importing and Exporting the Rule of Law: Opportunities, Bumps and Unexpected Curves in the Road by Roger Nowadzky
3:45 p.m. — Misconceptions about Rule of Law as a Barrier to Law Change: Lessons From the Immigration Debate by Lori Chesser
4:05 p.m. — Panel Discussion
4:35 p.m. — Audience Q & A
This program is part of the AJS/Drake Justice System Series. For more information or to register, visit the Web site or call 515-271-2284. Registration forms can also be faxed to 515-271-3090.
Additional information about panelists and the program agenda is available online. The program has been approved for 2.5 hours of Iowa CLE credit.