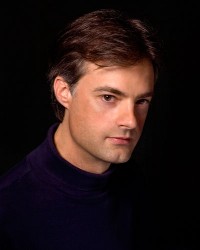 Nicholas Roth
CONTACT: Nicholas Roth, 515-271-2857, nicholas.roth@drake.edu;

Tory Olson, 515-271-1834, tory.olson@drake.edu
Drake University Assistant Professor of Piano Nicholas Roth will perform a recital featuring works by Ravel, Schumann and Prokofiev on Monday, Nov. 26. The event, which is free and open to the public, will start at 8 p.m. on Jordan Stage in Sheslow Auditorium in Old Main, 2507 University Ave.
Roth's performance will feature "The Sonatine" composed in 1905 by French composer Maurice Ravel. "'The Sonatine' is a fine example of neo-classicism, demonstrating the composer's reverence for compositional styles of ages past," Roth said.
He will also explore music by German composer Robert Schumann through "Carnaval," composed in 1834. The piece exemplifies Schumann's multiple personalities in a cycle of 21 short pieces that represent Schumann's musical interpretation of people and events at a masked ball.
In addition, Roth will play Russian composer Sergei Prokofiev's "Seventh Sonata," one of three "war sonatas" composed in the early 1940's. "The 'Seventh Sonata' is one of the most difficult and most popular of Prokofiev's nine piano sonatas," Roth said.
This year, Roth released his third solo recording with the Blue Griffin Recording. The recording, the complete Lyric Pieces of Edvard Grieg, has garnered enthusiastic reviews in International Record Review and Gramophone in London, Fanfare and American Record Guide.
Roth has presented several lecture-recitals on Grieg and Schumann throughout the Midwest. At the 2007 World Piano Pedagogy Conference in Las Vegas, Nev. honoring the lifetime achievement of pianist Leon Fleisher, Roth participated in panel discussions with pianists Susan Starr and Robert Hamilton on performance related topics.
In addition to solo and collaborative performances throughout the U.S., Roth joined Drake music colleagues Clarence Padilla, James Romain, Andrew Classen and Robert Meunier for performances in Mexico City and Pachuca City as part of the National Conservatory of Mexico, Academia de Musica.
For more information, visit the Web site.