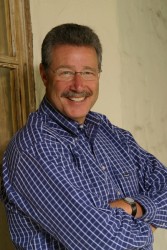 Barry Posner
CONTACT: Thomas Westbrook, 515-271-3078, thomas.westbrook@drake.edu;

Tory Olson, 515-271-1834, tory.olson@drake.edu
Award-winning writer and renowned leadership consultant Barry Posner will headline "The Leadership Challenge: The Five Practices of Exemplary Leadership Workshop" Friday, Nov. 30. Sponsored by Drake University and the Central Iowa Chapter of the American Society for Training and Development, the event will be held from 8 a.m. to noon at the Sheraton West Des Moines, 1800 50th St., West Des Moines.
Posner is coauthor of one of the bestselling leadership books — "The Leadership Challenge," with colleague Jim Kouzes. Both Posner and Kouzes are preeminent researchers, whose 1983 studies led them to develop a leadership model now used by millions of people worldwide.
Posner is dean of the Leavey School of Business and professor of leadership at Santa Clara University in Silicon Valley, Calif., where he received the Dean's Award for Exemplary Service, Extra-Ordinary Faculty awards and the President's Distinguished Faculty Award. In 2001, Posner and Kouzes received the International Management Council's award for the nation's top leadership and management educators.
An international speaker, Posner has visited organizations such as Charles Schwab, L.L. Bean, Conference Board of Canada, U.S. Postal Service among others worldwide for leadership and management workshops in the U.S., Canada, Europe, Mexico, Australia, South Africa and New Zealand. He also has published more than 80 research articles in journals such as Leadership Review, Academy of Management Journal and Journal of Applied Psychology.
He received his undergraduate degree in political science from the University of California, Santa Barbara, his master's in public administration from Ohio State University and his doctorate in organizational behavior and administrative theory from the University of Massachusetts, Amherst.
For more information or to register online for "The Leadership Challenge: The Five Practices of Exemplary Leadership Workshop," visit http://astdiowa.org/barryposner.htm.

Participants also can register for the workshop from 7:30-8 a.m. on Nov. 30 at the Sheraton West Des Moines.
Cost for the workshop is $150 for the general public and $125 for ASTD members, Drake graduate students, Iowa Hospital Association members, Tax Executive Institute members and professionals from non-profit organizations. Group rates are available.
Other corporate sponsors are:

Wells Fargo
Grinnell Mutual Reinsurance Co.
The Business Improvement Co.
Principal Financial Grou