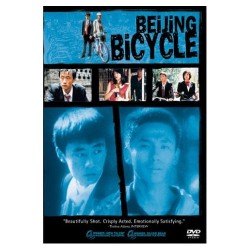 CONTACT: Lisa Lacher, 515-271-3119,
lisa.lacher@drake.edu
Drake University's International Film Series will conclude Sunday,
Dec. 2, with a screening of "Beijing Bicycle" (Shiqi sui de dan che) in
Mandarin with English subtitles. The film, which is free and open to
the public, will start at 2 p.m. in room 101 of Meredith Hall, 2805
University Ave.
Joseph Schneider, the Ellis and Nelle Levitt professor of sociology
at Drake, will introduce the film about two teens fighting over a
stolen bicycle and their desperate attempts to find acceptance in their
very different worlds. Schneider will also lead a discussion
afterwards.
The series is sponsored by the Drake Center for Global Citizenship
and the Drake University Language Acquisition Program. For more
information, call David Skidmore at 515-271-3843.