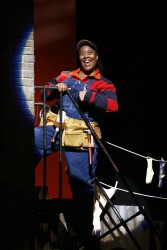 Carla Renata
Actor Carla Renata, who plays landlord Gary Coleman in "Avenue Q" at
the Civic Center of Greater Des Moines, will visit Drake University
Thursday, Nov. 15, for an "In the Actors Studio"-style discussion.
Deena Conley, Drake assistant professor of theatre arts, will
moderate the talk, which will take place from 2 to 3 p.m. in the
Performing Arts Hall in the Harmon Fine Arts Center, 25th Street and
Carpenter Avenue. This event is free and open to the public.
Before joining "Avenue Q," Renata played Killer Queen in the Queen
musical "We Will Rock You" and received a NAACP nomination as Shenzi in
the LA Company of "The Lion King." Her Broadway credits include "The
Life," "Smokey Joe's Cafe" and "How to Succeed." Renata performed in
the first national tour of The Who's "Tommy" and has appeared in
numerous TV programs, including "CSI," "Will & Grace," "My Name Is
Earl," "The War At Home" and "It's Always Sunny in Philadelphia."
"Avenue Q," playing at the Civic Center Nov. 13-18, is Broadway's
smash-hit 2004 Tony Award winner for Best Musical, Best Score and Best
Book. The musical tells the story of Princeton, an optimistic college
grad who comes to New York with big dreams and a tiny bank account.
He soon discovers that the only neighborhood that he can afford is
Avenue Q, but the neighbors seem nice: Kate Monster, a cute
kindergarten teaching assistant looking for a soul mate; laid-back and
easygoing Nicky and his roommate Rod, a Republican investment banker
with a secret; out-of-work Brian, a stand-up comedian, and his fiancee
Christmas Eve, a therapist with only one client, and Trekkie Monster,
an Internet addict. Together, Princeton and his newfound friends
struggle to find jobs, dates and the ever elusive purpose in life.
The show is recommended for ages 13 and up. For more information about the show and tickets, call 515-243-1888 or visit the Civic Center Web site.