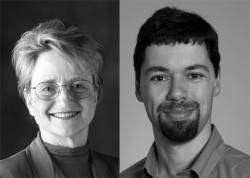 Mary J.R. Gilchrist and Michael Schoenbaum
CONTACT: David Skidmore, 515-271-3843, david.skidmore@drake.edu;

Tory Olson, 515-271-1834, tory.olson@drake.edu
Pandemic expert Mary J.R. Gilchrist and economist Michael Schoenbaum will give a joint lecture Tuesday, Nov. 27, at Drake University on "Plagues and Pandemics: From the Black Death in the Middle Ages to Bird Flu in the Age of Science."
The lecture, which is free and open to the public, will start at 12:30 p.m. in Bulldog Theater at Olmsted Center, 2875 University Ave.
Gilchrist, former director of the University of Iowa Hygienic Laboratory, directs the Massachusetts State Laboratory Institute. She has testified four times before committees of the U.S. Congress concerning bioterrorism response, antibiotic resistance and emerging infections. She has also advised the National Academy of Sciences' Institute of Medicine, most recently serving on a committee to evaluate laboratory preparedness for pandemic influenza around the world. Gilchrist earned her doctorate at the University of Illinois, Champaign-Urbana.
Schoenbaum has served as a senior economist at the RAND Corp. in Washington, D.C., since 1997. He previously taught for two years at the University of California-Berkley as the Robert Wood Johnson Foundation scholar in health policy. He studied at the University of Michigan, where he earned a doctorate in economics in 1995.
Gilchrist and Schoenbaum's lecture is part of a series on "America's Role in the World" and is sponsored by Drake's Center for Global Citizenship and the Drake Humanities Center.
The lecture series will continue throughout the fall semester. For more information about the upcoming lectures, call 515-271-3119 or visit the Web site.