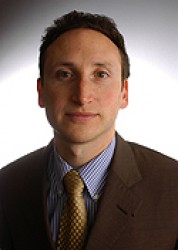 Craig Cohen
CONTACT: David Skidmore, 515-271-3843, david.skidmore@drake.edu;

Lisa Lacher, 515-271-3119, lisa.lacher@drake.edu
International policy expert Craig Cohen will deliver a free, public lecture on "Smart Power and Stability in Pakistan," at 12:30 p.m., Tuesday, Oct. 30, in Bulldog Theater in Olmsted Center, 2875 University Ave.
Cohen is deputy chief of staff at the Center for Strategic and International Studies (CSIS) in Washington, D.C., as well as a fellow in the Post-Conflict Reconstruction Project of the International Security Program and co-director of the Commission on Smart Power at CSIS. The Smart Power initiative aims to help rebuild the civilian instruments of national power and develop strategy for balancing those tools with military force.
CSIS is a strategic planning partner for that offers insights and policy solutions to government decision makers on global security and economic issues.
Cohen teaches as an adjunct professor at Syracuse University in the Maxwell School. He also directs research on U.S. policy in Pakistan, and is the author of CSIS's upcoming report titled "When $10 Billion Is Not Enough: Rethinking U.S. Strategy toward Pakistan."
Before joining CSIS, Cohen worked with the United Nations and nongovernmental organizations in Azerbaijan, Malawi, Rwanda and the former Yugoslavia. He also wrote "Measuring Progress in Reconstruction and Stabilization Operations." He received his undergraduate degree from Duke University and master's from Fletcher School of Law and Diplomacy at Tufts University.
The lecture series will continue throughout the fall semester. For more information about the upcoming lectures, call 515-271-3119 or visit the Web site.