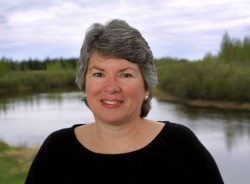 Peggy Shumaker
CONTACT: Jennifer Perrine, 515-271-4161, jennifer.perrine@drake.edu.

Lisa Lacher, 515-271-3119, lisa.lacher@drake.edu
As part of the Drake Writers and Critics Series, award-winning poet Peggy Shumaker will read and discuss her two most recent books during a visit to Drake on Tuesday, Oct. 30.
Shumaker, who teaches in the low-residency MFA Rainier Writing Workshop, will give a presentation on her book "Blaze" and the process of collaboration at 4 p.m. in Cowles Library Reading Room, 2725 University Ave. "Blaze" is a book of poetry and paintings about the Alaskan landscape composed in collaboration with artist Kesler Woodward.
This collection brings together 30 years of Woodward's birch portraits and forest close-ups. Over those same 30 years, Shumaker has traveled inner landscapes via images drawn from two deserts — the Sonoran and the Subarctic. Her poems embody the harsh beauty of heat and cold, the force of true extremes.
Shumaker has generously donated 100 copies of "Blaze" for distribution to anyone interested in attending the reading and discussion. Copies are available in the Howard Hall main office, room 325.
Shumaker will also read and discuss "Just Breathe Normally," a collection of her brief lyrical nonfiction pieces, at 8 p.m. Oct. 30, in the Cowles Library Reading Room.
"Just Breathe Normally" opens with a traumatic accident. Shattered perceptions and shards of narrative tell the story, from wreck through recovery and beyond. In lyric prose, events spiral back through generations to touch on questions of mortality and family, immigration and migration, legacies intended or inflicted. In the wake of her near-fatal cycling collision, Shumaker searches for meaning within extremity. Through a long convalescence, she reevaluates her family's past, treating readers to a meditation on the meaning of justice and the role of love in the grueling process of healing.
Shumaker's previous books include "Underground Rivers," "Wings Moist from the Other World," "The Circle of Totems," "Braided River" and "Esperanza's Hair." Her poems have been published in Russia, Japan, Australia, Canada, England and throughout the United States. Her nonfiction has appeared in "Short Takes: Brief Encounters with Contemporary Nonfiction," "A Road of Her Own," "Under Northern Lights," "A Year in Place" and "Ascent," among others.
Born in La Mesa, Calif., Shumaker grew up in Tucson, Ariz., and now lives in Fairbanks, Alaska. She earned her BA in English and MFA in creative writing from the University of Arizona. She was a writer in residence for the Arizona Commission on the Arts. She has given readings in art galleries, a governor's mansion, a clearing in the woods, an abandoned bank, on reservations, in libraries, on a riverboat and at many bookstores, community centers and universities.
She won a poetry fellowship from the National Endowment for the arts and has received several awards for teaching. She served as poet in residence at the Stadler Center for Poetry at Bucknell University and as president of the Board of Directors of the Associated Writing Programs. Professor emerita from the University of Alaska-Fairbanks, Shumaker was chair of the English Department and director of the MFA program in creative writing.
For more information about either event, contact Jennifer Perrine at 515-271-4161 or jennifer.perrine@drake.edu.