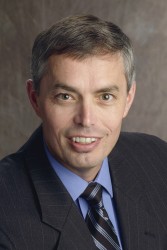 Larry D. Zimpleman
CONTACT: Stephen Gara, 515-271-2156, stephen.gara@drake.edu

Lisa Lacher, 515-271-3119, lisa.lacher@drake.edu
Drake University alumnus Larry D. Zimpleman, president and chief operating officer of The Principal Financial Group, will give the annual Financial Executives International – Drake School of Accounting Lecture on Thursday, Nov. 1.
The lecture will focus on broad trends in retirement and financial services with an emphasis on enterprise risk management. The event, which is free and open to the public, will start at 7:15 p.m. in Sheslow Auditorium in Old Main, 2507 University Ave. A reception will follow in Levitt Hall in Old Main.
Zimpleman received his bachelor's degree in actuarial science and his MBA from Drake, where he serves on the University's Board of Trustees.
He has been president and COO of The Principal Financial Group since June of 2006. He oversees all global and domestic operations, including the U.S. and international asset accumulation businesses; Principal Bank; the life and health insurance businesses; and the global asset management businesses under Principal Global Investors.
Zimpleman joined the company in 1971 as a part-time actuarial student. From 1976-97 he served in various management and leadership positions at the officer level in the pension department. He was named vice president in 1997 and senior vice president in 1999. In 2003 he was named president of the Principal Financial Group Retirement and Investor Services Segment. He also serves as chairman of the board and a director of Principal Funds.
Zimpleman became a Fellow of the Society of Actuaries in 1976, and is a past member of the Board of Governors of the Society. He is also past president and board chair of the American Academy of Actuaries, and was named an Actuarial Foundation Trustee in 1999. Zimpleman was a delegate at the 2002 and 2006 National Summit on Retirement Savings hosted by President Bush and the Secretary of Labor.
The FEI – Drake Lecture is an annual event co-hosted and sponsored by the Iowa chapter of the Financial Executives International and Drake's School of Accounting, which is part of the College of Business and Public Administration.
The leading advocate for corporate financial management, FEI is a professional association of more than 15,000 senior financial executives from some 8,000 major corporations throughout the United States and Canada. The Iowa chapter has 95 members from more than 60 organizations and has been ranked nationally for its program quality.
For more information about the lecture at Drake, contact Stephen Gara, associate professor of accounting, at 515-271-2156 or stephen.gara@drake.edu.
– 30 –