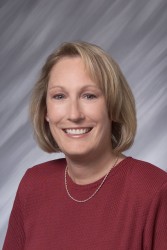 Deb Bishop
Drake University will host the 2007 entrepreneurial conference "Traits of Success" for Drake and area high school students on Friday, Oct. 26. The event, which is sponsored by Drake's John Pappajohn Entrepreneurial Center, will be held from 9:30 a.m. to 2 p.m. in Parent's Hall in Olmsted Center, 2875 University Ave.
"It will be a really inspiring event — educational in a fun way," said Deb Bishop, conference organizer and director of the Pappajohn Entrepreneurial Center. "We know it will appeal to students."
The day will feature two Drake alumni, Malcolm Goodwin and Daniel Pettit, as keynote speakers. Goodwin, president and CEO of Promise IT Solutions Inc., will present a lecture on "Traits of Success" at 10 a.m., and Pettit, sales manager of Burnett Realty and part owner of Keyboard West Studios, will address "Passion to Profit" at 1 p.m. In addition, a panel of young entrepreneurs, including Zac Voss, Antje Gray and Felix Gallagher, will talk about "Risk and Innovation, Making and Breaking Entrepreneurs" at 10:45 a.m.
In conjunction with the conference, the center will sponsor an innovation poster contest, with $100 cash prizes for winners, which will be presented at a free luncheon at noon. Participants will develop innovative ideas for products and services in categories including health care, technology and open/other. Posters must be submitted to Olmsted Center by 9:30 a.m. Oct. 26. Detailed instructions can be found on the Web site.
During the lunch, the Drake chapter of Students in Free Enterprise will host a competitive risk game with prizes for participants.
Des Moines venture capitalist John Pappajohn funded the John Pappajohn Entrepreneurial Center in 1996. The center is one of the five Pappajohn Centers in Iowa.
Admission to the conference is free, with lunch provided. For more information about the conference, or to register, visit www.pappajohn.drake.edu, or call Tyler Woodson at 515-271-3071.
Schedule of events:

9:30 a.m. — Registration, poster entries, morning refreshments
10:00 a.m. — Malcolm Goodwin: "Traits of Success"
10:45 a.m. — Young entrepreneurs panel: "Risk and Innovation, Making and Breaking Entrepreneurs"
12:00 p.m. — Free luncheon, prizes for poster winners announced
12:30 p.m. — Risk game show, sponsored by SIFE
1:00 p.m. — Daniel Pettit: "Passion to Profit"