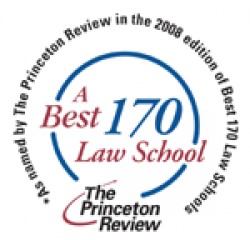 CONTACT: Tory Olson, 515-271-1834, tory.olson@drake.edu
The Princeton Review recently named Drake University Law School one of the nation's best law schools in the 2008 edition of its "Best 170 Law Schools."
"We're not surprised, of course, to be included among the nation's best law schools," said David Walker, dean of the Law School. "We are very gratified by the students' anonymously submitted comments. They accurately reflect that Drake Law School is very focused and effective in educating and graduating lawyers, that at Drake the student body is very collegial, the faculty are highly accessible, and the school is supportive of students from day one."
The survey compares schools based on academic programs, institutional data from each school and student reviews, offering a two-page school profile including information on academics, admissions, student life, academic ratings, career placement services and more.
"We select schools for this book based on our high regard for their academic programs and offering, institutional data we collect from the schools, and the candid opinions of students attending them who rate and report on their campus experiences at the schools," said Robert Franek, vice president of publishing at Princeton Review. "We are pleased to recommend Drake University Law School to readers of our book and user of our Web site as one of the best institutions they could attend to earn a law school degree."
In the "Survey Says" section, students said Drake Law School offers:

• One-of-a-kind trial practicum

• Enhanced and totally reinvented Career Services

• Great research resources and huge emphasis on writing

• Great library staff

• Abundant externship, internship and clerkship opportunities

• The perfect balance of academic tradition and excellence

• State-of-the-art technology, with wireless network access campuswide

• A helpful and healthy place to study and learn
When asked about faculty and administration, students said:

• Administrators are knowledgeable, experienced and unbelievably accessible

• Faculty are experienced, pragmatic and effective, and have open door policies

• Faculty are open to diverse opinions in the classroom
Students described the school's atmosphere as "supportive," adding that "cutthroat, competition-type behavior is virtually unheard of." Professors have worked in the field and offer students "practical experience" which helps prepare them for classes, practicum and exams — but most importantly, their careers ahead. "Other schools graduate theoretically sound students of the law; Drake graduates lawyers."
Drake is one of 170 law schools profiled by the Princeton Review, and 18,000 students submit surveys for schools. The book also gives advice on the law school application process and funding the degree.
For the 2007-08 academic year, Drake Law School had 85 more applicants with 146 full-time entering students as compared to 139 for the 2006-07 academic year, and 428 total law students for 2007-08. In the new class, students represent 24 states and 67 undergraduate institutions. Drake also gained seven transfer students from other law schools, and increased the percentage of entering minority students from 14 percent last year to 15 percent this year.
"Best 170 Law Schools" is available through bookstores. For more information, visit the Web site.