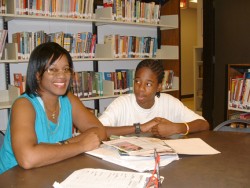 Barb Browder and her son, Shakhu, at a tutoring session.
CONTACT: Anne Murr, 515-271-3982, anne.murr@drake.edu;

Lisa Lacher, 515-271-3119, lisa.lacher@drake.edu
The Drake University Adult Literacy Center will host "Books and Beyond," from 3:30 to 7 p.m. Thursday, Oct. 25, at the Drake School of Education, 3206 University Ave.
"Books and Beyond" aims to raise awareness about the Adult Literacy Center, motivate everyone to read more often and offer the opportunity for people to make a financial contribution to the center. All contributions will be used to support the efforts of volunteers and the adults they tutor.
Activities include authors, singers and Drake personalities reading aloud, as well as readings from people enrolled in the Adult Literacy Center. Center students will also tell how their lives are changing as they learn to read, and Chance, the certified therapy dog, will also be on hand for people to read to.
Guests are encouraged to bring their children or other children to hear what it's like to live without reading. Guests can also bring the latest book they are reading, their favorite children's book, a type of reading they find essential in life, such as food labels or newspapers, and any pieces they have written and want to share. Areas for silent reading and reading aloud will be provided.
As part of the School of Education, the Adult Literacy Center serves approximately 70 adult students who have reading skills ranging from pre-reading to seventh grade. Each student meets with a tutor for two hours each week and is only required to pay an annual fee of $10 for materials. Tutors help the adult students learn to read anything from traffic signs to chapter books and more. Spelling and vocabulary classes are also available.
The center needs additional tutors and welcomes new students. For more information about the Drake University Adult Literacy Center or "Books and Beyond," contact coordinator Anne Murr at (515) 271-3982 or anne.murr@drake.edu.