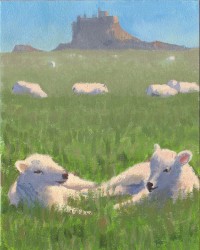 CONTACT: Eric Saylor, 515-271-1989, eric.saylor@drake.edu;
Lisa Lacher, 515-271-3119, lisa.lacher@drake.edu
Eric Saylor, assistant professor of musicology and music history, will present "'It's not Lambkins Frisking at All:' English Pastoral Music and the Great War" on Friday, Oct. 12, as part of the Drake University Center for the Humanities Colloquium Series. The event, which is open to all interested students, faculty and staff, will start at 3:30 p.m. in room 204 of the Harmon Fine Arts Center.
Saylor came to Drake in 2003 after completing his Ph.D. at the University of Michigan. His work focuses on British music of the late 19th and 20th centuries, with particular focus on the music of Ralph Vaughan Williams and related interest in the music of Frederick Delius and Edward Elgar. He looks in particular at links between music, nationalism and politics. His courses range from the first-year Introduction to Music Literature course for music majors to seminars on Music and Politics and Shape-Note Hymnody.
In the colloquium, Saylor will argue against the common and vague depictions of English pastoral music of the early 20th century as escapist, reactionary, sentimentally nostalgic, and anti-modern; depictions that minimize both its innovative aspects and socio-cultural significance. An examination of prominent pastoral works from the interwar era suggests that English pastoralism was more progressive than generally assumed.
Initially a response to the horrors of the Great War, pastoralism provided composers with a stylistic alternative to high Modernism while inverting traditional literary and musical tropes of pastoral art in profoundly modern and characteristically English ways, Saylor contends.
In particular, pastoral imagery and symbols became associated with themes of remembrance and elegy in works by Elgar, Vaughan Williams and Bliss, among others, providing catharsis for war-weary composers and audiences alike. The bucolic visions glimpsed in such works are not Arcadian safe havens, but reminders of what Arcadia was for those swept up in modernity's tide; such works mourn the loss of a utopian future as much as an idealized past.
For more information, contact Joseph Schneider, director of the Drake Center for the Humanities, at 515-271-2158 or joseph.schneider@drake.edu.