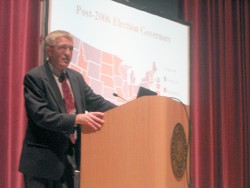 Morris Fiorina stands near a map showing red states with Republican governors and blue states with Democratic governors.
Renowned political scientist Morris P. Fiorina spent two days at Drake last week as part of a national Visiting Scholar Program sponsored by the Phi Beta Kappa Society.
Fiorina, the Wendt family professor of political science and a senior fellow of the Hoover Institution at Stanford University, spoke to two political science classes and gave a public lecture titled "The Present Disconnect in American Politics."
"The lecture gave the Drake and Des Moines communities the opportunity to hear a nationally recognized scholar present his views on the character of political conflict in contemporary America," said Dennis Goldford, Drake professor of politics.
In his lecture, Fiorina described in detail the disconnect between the polarized political elite (elected officials, campaign and party leaders) and the largely centrist electorate.
While the Republican political elite has become far more conservative and the Democratic political elite has become far more liberal, the same isn't true of ordinary voters. In fact, he said, surveys show there is a lot of overlap in the views of Republican and Democratic voters on a wide array of issues. For example, he said, polls show 40 percent of Republicans support abortion rights.
Fiorina's lecture is part of a series of events sponsored by the Phi Beta Kappa Society to encourage the application of learning and scholarship in the examination of important topics. Drake is one of 11 colleges and universities across the country selected to participate in this year's series, titled "Deliberation About Things That Matter."
"A main goal is to work collaboratively with other groups on campus to explore deliberation as a style of learning," said Lisa West, assistant professor of English and faculty adviser for Drake's chapter of Phi Beta Kappa.
The series will continue with other speakers and events that will be announced later. The events at Drake and the other participating campuses are funded by a grant of $100,000 to the Phi Beta Kappa Society from the Teagle Foundation.
Since 1776, Phi Beta Kappa has advocated excellence in the liberal arts and sciences and is the nation's oldest honor society.