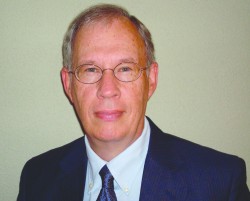 Thomas Lairson
CONTACT: David Skidmore, 515-271-3843, david.skidmore@drake.edu;

Lisa Lacher, 515-271-3119, lisa.lacher@drake.edu
Thomas Lairson, an expert in international relations, will discuss "Considering the Endgame in Iraq" in a free public lecture at Drake University on Tuesday, Oct. 9. The lecture will start at 12:30 p.m. in Bulldog Theater in Olmsted Center, 2875 University Ave.
Lairson is a professor of political science and the Gelhman professor of international business, and director of international studies at Rollins College in Winter Park, Fla. His courses include Asian business, Global E-Business and Asian political economy, and he is interested in technology and Asian business environments. Lairson received his doctorate in political science, and a bachelor's degree from the University of Kentucky. He was also the first Ford Foundation professor of international relations at the Institute for International Relations in Hanoi, Vietnam.
Lairson's lecture is part of a lecture series on "America's Role in the World" sponsored by Drake's Center for Global Citizenship. The series will continue throughout the fall semester. For more information about the upcoming lectures, call 515-271-2169 or visit the Web site.