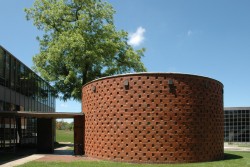 Exterior view of Scott Memorial Chapel
The restoration of Drake's Oreon E. Scott Memorial Chapel by Substance Architecture has received the 2007 Honor Award for Restoration from the Iowa chapter of the American Institute of Architects.
In its comments, the jury described the project as an "Exquisite restoration of a truly great piece of modern architecture. Lovingly done."
The chapel, which is just north of Medbury Hall, was designed by internationally renowned architect Eliel Saarinen and his son, Eero, with the help of Leonard Parker, who later designed Opperman Hall and Law Library. The building is named after Drake trustee Oreon E. Scott, who generously funded the project, which was dedicated in 1955.
"The chapel is round and yet harmonizes with the other buildings in which straight lines are dominant. The interior of the chapel is entirely unconventional, but its carefully selected symbolic features and general design give it an effective significance of rare value," wrote Charles J. Ritchey in "Drake University through Seventy-Five Years 1881-1956."
In 2004, Scott Chapel was selected as one of the 50 most significant sites in Iowa by the Iowa chapter of the AIA. Drake's restoration of the building, which cost approximately $50,000, included roof repair, skylight replacement, tuckpointing and refinishing of the interior woodwork. Architect Paul Mankins of Substance Architecture directed the project.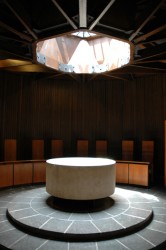 Interior view of Scott Chapel.
The chapel was one of the highlights of an architectural tour for about 20 volunteer tour guides from the Chicago Architecture Foundation who traipsed across campus in 2005 to view buildings designed by famous architects.
John McCaw, professor emeritus of religion and former dean of Drake's Divinity School, spoke to the group at Scott Chapel. He pointed out that the 20 seats are arranged in a circle so that everyone is equal and that all the chairs have high backs, which are reminiscent of a bishop's chair. "This chapel was designed as a place for prayer — a place to go and share your thoughts with whatever 'other' suits you," he said.