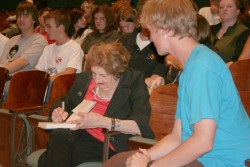 Helen Thomas signs book for first-year journalism student Tyler O'Neil.
'First lady of the press' offers advice to journalism students
The 'first lady of the press,' Helen Thomas, helped break the gender barrier in journalism and faced challenges as a woman journalist. Yet, she's more concerned about the new challenges confronting today's young high school and college journalists.
On topics from the war to mainstream news media, Thomas spoke to area high schoolers and Drake students and faculty in Sheslow Auditorium, Sept. 27, and made it clear that journalists still have a lot of work to do. "The media has a responsibility to inform people and the apathetic public today," she said.
Thomas emphasized her disappointment in the public's apathy toward the way our country is being led. She said, the presidents keep secrets from the people and without an informed public, you can't have a democracy. Thus, Thomas said it is every journalist's challenge today to "break down the walls of secrecy." Thomas said the past presidents have not been up to her standards and if given the chance, she'd fire every one of them. She said, one reason for a disconnect between the free press and the apathetic citizenry could be that none of the candidates is interesting enough to get people to care.
"We need to get our honor back and return to our great image that our founding fathers made," Thomas said. "This is my country and I can still criticize it."
She challenged student journalists to work for peace, keep learning, read newspapers, work for women's equality in the workplace, have a great attitude and be courageous. "It is our public service to be in journalism," Thomas said.
Thomas started out writing and reporting for her high school paper and got "hooked for

life." Even through the challenges she faced as a longtime Washington press corps reporter in covering the White House, she said reporters are in the best profession and have the best job in the world because, their "one weapon is skepticism."
When asked why she keeps reporting, Thomas said, "Outrage — you have to care about your country. We need to hold them accountable, and we have the privilege as journalists to ask questions."
Thomas' visit was sponsored by Drake's School of Journalism and Mass Communication, Students for Women's Issues and the Office of Admission. Thomas also spoke at a luncheon sponsored by the Chrysalis Foundation, a local organization whose mission is to develop strong women and girls through education, advocacy, grant-making and philanthropy.