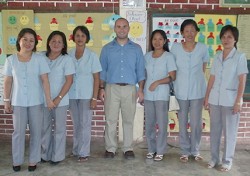 Scott Murphey celebrates his departure with the people of Leyte, an island in the Philippines. For two years, Murphey worked with the residents while serving in the Peace Corps.
Graduate student's global experiences enrich young people's education

By Charley Magrew
Before entering the Drake School of Education's graduate program, Scott Murphey's experiences set him apart from the average student in the program. Murphey, who has a bachelor's degree in business and sports management from Quincy University, began working with AmeriCorps in inner-city Chicago after graduation.
After serving there, he decided he wanted to do something more profound and serious, which led him to Leyte, an island in the Philippines, as a member of the Peace Corps. For the next two years, he developed workshops for teachers in classroom management and English courses in a society that faced many struggles.
"It wasn't the actual job, rather the cultural exchanges that I enjoyed the most," said Murphey. "Building community and relationships were most important to me."
The hierarchical society in Leyte is dramatically different than what Murphey was accustomed to. He faced struggles when he tried to make positive changes in people's actions, as he was not in a position to give more than suggestions to anyone. With this societal structure, it took a very long time to make any significant changes with his work. Despite the struggles, Murphey established a connection with the community.
"I lived in a really poor town, and before I left, my neighbors all got together and chipped in money to buy food and drinks, which was something they couldn't really afford," said Murphey. "It shows that they really appreciated me being there, and that was really meaningful."
At 29, Murphey currently student teaches a third-grade class at Windsor Elementary in Des Moines. Now in his fifth week, he has already made a strong connection with the school.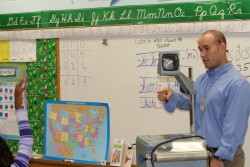 Scott Murphey calls on a student in Ms. Schneider's third-grade class at Windsor Elementary School.
"I've received comments from his mentor teacher, other staff members and the principal, and they all have very positive things to say," said Jim Mayse, student teaching supervisor for Drake's School of Education. "Scott has a really great way of connecting with the kids, and in turn, the kids are excited to learn."
Mayse also said that Murphey's experiences with AmeriCorps and working in schools have given him more maturity than younger student teachers, which shows when working with the students. For instance, upon a guest's arrival to the classroom, Murphey takes the time to stop the class and introduce the guest to the children, and then assigns a delegate from the class to personally greet the individual, signifying the importance of respect in the classroom.
"Welcome to Ms. Schneider's third-grade class. My name is Noah. We are glad you are here today," a student says as he shakes the visitor's hand.
"I have a great class and a fantastic mentor teacher," said Murphey. "We have the best class in the school."
After he graduates from Drake with a Master of Science in Teaching, Murphey will seek a position teaching English in Korea, continuing to make a difference on a global scale.
"I came to Drake to extend my education so I could teach abroad," said Murphey. "Drake has been supportive in helping me reach my goal."