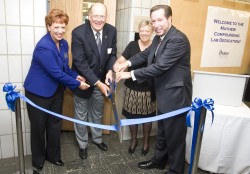 Dean Raylene Rospond, Larry and Sandy Mayhew and Drake President David Maxwell cut the ribbon during the dedication.
For Drake University pharmacy students, the transition from college to the professional world will be smoother, thanks to the new state-of-the-art Mayhew Compounding Laboratory, made possible by a $500,000 gift from alumnus Larry Mayhew and his wife, Sandy.
The laboratory will greatly enhance opportunities for students to learn the latest techniques in compounding — in which pharmacists make medications from scratch — a rapidly growing method as demand for customized prescriptions increases to better meet patient needs.
"Our students will now have more experience with compounding," said Raylene Rospond, dean of the College of Pharmacy and Health Sciences. "Practice is always changing rapidly in the profession of pharmacy and health care, keeping our facilities and curriculum at a point where they match what's going on in the professional world is a challenge and it's rewarding when we can do so."
Drake faculty, students, the Mayhew family and pharmacy professionals gathered Thursday, Sept. 6, for a dedication ceremony, ribbon cutting and reception in the Morgan E. Cline Hall of Pharmacy and Science.
"I'm overwhelmed with this gathering today," Mayhew said. "We're excited that we were fortunate to be able to do this, and it didn't even take 2 minutes of talk for us to decide this is where we can help and this is what we wanted to do. I'm excited to hear about the way the lab is utilized in the next coming years."
The laboratory on the first floor of Harvey Ingham Hall is equipped with audiovisual technology for student presentations and professor's demonstrations during class. New cabinets, tables, wash stations, computers, drying racks and projector screens transformed the old space, including a clean prep and sterile room.
"Drake has an excellent pharmacy program, and having access to these tools and technology puts us at the top," said Steph Swain, a second-year student in the Doctor of Pharmacy program and a resident of Clackamas, Ore.
"The new lab offers a lot more opportunity than students are aware of at this point," said D.C. Huffman, executive vice president of the American College of Apothecaries. He emphasized the importance of compounding for pharmacy students and noted that compounding played a key role in Mayhew's career and success.
Mayhew graduated from Drake in 1967 and worked for three years in a retail pharmacy in Chicago before moving to Phoenix to work in an independent pharmacy that he later purchased. He opened more pharmacies in the early 1980s and eventually owned six, including a compounding pharmacy and a closed-shop pharmacy serving assisted-living communities and hospices. He retired in 2005 after selling the last of his pharmacies.
A resident of Fountain Hills, Ariz., Mayhew has contributed greatly to his profession, serving as president of the Arizona Pharmacists Association and the American College of Apothecaries. He also has been active in the National Community Pharmacists Association and the Professional Compounding Centers of America, which named him "Pharmacist of the Month." He is also a longtime board member of Pharmacists Mutual Insurance Co.