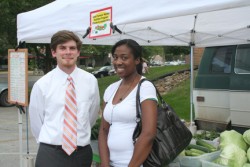 Hunger fellows Isha Plynton and William Perreault at the Drake Neighborhood Farmers' Market.
Two fellows join Drake to tackle anti-hunger projects
Drake University Law School is one of 13 sites selected to host two Bill Emerson National Hunger Fellows for the 2007-08 academic year. Drake's two fellows were selected from a 20-member class and recently joined the Agricultural Law Center to work on public policy for food and agricultural issues.
"Drake and Des Moines are very fortunate to have been selected," said Neil Hamilton, director of the Agricultural Law Center at Drake. "The Congressional Hunger Center officials running the program were excited to have a Law School involved and helped identify fellows who are possible candidates for legal careers. This project reinforces Drake's commitment to education, leadership training and capacity building in the area of public policy for food and agricultural issues."
Isha Plynton, a 2007 Tufts University graduate from Providence, R.I., and William Perreault, a 2007 Davidson College graduate from Chapel Hill, N.C., will spend six months in their field placement at Drake and then six months with national organizations combating hunger in Washington, D.C. While in Des Moines, research assistant Susan Roberts will guide the fellows while they work in the Drake Legal Clinic and Middleton Children's Rights Center and the Iowa Food Policy Council and its Hunger and Food Security Task Force.
"This is a great opportunity for us to be selected to host the fellows," Roberts said. "They will do some great projects while they are here, immersing themselves in the community and state and working on hunger and poverty issues. They are wonderful young people who have a lot to offer."
The competition for this national program is steep for college grads who are interested in public service and hunger policy and for placement sites across the nation. There were 200 applicants for 20 congressionally funded positions for fellows and 13 host sites.
At Drake, some of the goals for the fellows are to increase awareness of hunger among low-income children and expanding understanding of food security issues on a local and state level. Fellows will also strive to bring these issues to the attention of presidential candidates campaigning in Iowa.
The Bill Emerson National Hunger Fellowship is a project of the Congressional Hunger Center, which was founded in 1993 to fight hunger by developing and training leaders through various programs, research, advocacy projects and education.
In addition to hosting the Hunger Fellows, Drake's Agricultural Law Center will host an international conference Oct. 15-16, in Drake's Legal Clinic, 2400 University Ave., to explore the role of law in promoting sustainable farming and rural development as well as other food-related topics. Scholars, professionals and jurors from 10 countries will participate, including Japan, India, Argentina, Italy, Germany and France. Thanks to a grant from Lillian Goldman Charitable Trust, the conference will continue the center's 25th anniversary celebration.
For more information about The Bill Emerson National Hunger Fellowship and the CHC, visit the Web site. Additional information on Drake's Agricultural Law Center is available online.