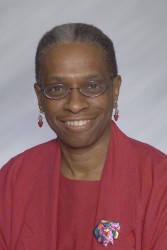 Wanda Everage
Wanda Everage, LA'72, has been named Virgil S. Lagomarcino Laureate by the Iowa State University College of Human Sciences for outstanding work in the field of education.
The Lagomarcino Laureate designation is bestowed to alumni who are nationally and internationally recognized for meritorious service or distinguished achievement in the field of education. Larry Ebbers, a professor in the Iowa State Department of Educational Leadership and Policy Studies, nominated Everage and described her as "a champion for people of color and the underserved."
Everage, vice provost for student affairs and academic excellence at Drake University, received her B.A. in Sociology from Drake University, and her M.S. in Educational Administration and Ph.D. in Academic Affairs in Higher Education both from Iowa State University.
Before coming to Drake in 1988, Everage served as vice principal at Des Moines Roosevelt High School. She currently serves on the Iowa Board of Parole, the Iowa Commission on the Status of African Americans, Orchard Place and Partners in Economic Progress.
Everage demonstrates extraordinary talent for helping others become better students, better citizens and better human beings. Under her leadership, Drake University's already-strong retention rate improved by 7 percent over the past five years.
"Wanda Everage is one of those rare people whose presence and commitment shape an institution and shape the experience of those who pass through it," said Drake President David Maxwell.
Everage will receive her award at the 76th annual homecoming honors and awards ceremony at 1:30 p.m. on Friday, Oct. 19, in Iowa State University's Benton Auditorium in the Scheman Building.