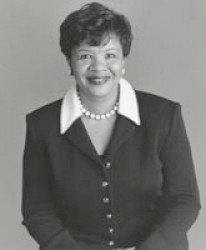 Emma Jordan
Emma Jordan, professor of law at Georgetown University Law Center, will open the 2007-08 con law lecture series at Drake at 2 p.m., Friday, Oct. 5, Drake Law School, Room 213, Cartwright Hall, Carpenter Ave. with a discussion on "Wealth and Inequality: Thinking about Communities and Individualism."
Well-known for establishing the field of economic justice in legal theory, and work in civil rights and financial services, Jordan teaches economic justice, commercial law, torts and financial services courses at Georgetown. She published her most recent book, "Economic Justice: Race, Gender, Identity and Economics" with Angela P. Harris, professor of law, University of California, Berkeley, Calif.
Before her career at Georgetown, Jordan taught at the University of California, Davis, Calif. She was president of the Association of American Law Schools and the Society of American Law teachers, and elected to membership in the American Law Institute in 1984. Jordan was also the editor-in-chief of the Howard Law Journal and named White House Fellow in 1980-81.
Jordan will explore her topic on wealth and inequality as it relates to the American Constitution. The Constitutional Law Center invites prominent national leaders, jurists and scholars to lecture and share their visions and interpretations of the Constitution on topics including religion, race, education, family and politics. The center provides programs and activities that broaden and deepen students' perspectives on our country's fundamental issues.
To continue the distinguished lecture series, Samuel Issacharoff, Bonnie and Richard Reiss professor of constitutional law at New York University School of Law, will discuss "Democracy and War" at 4 p.m. on Thursday, Nov. 8, Drake Law School, Room 213. Justice Richard Goldstone, visiting professor of law, William Hughes Mulligan Professor of International Law, Fordham University School of Law, will conclude the 2007-08 series with "The South African Constitution: The Recognition of Social and Economic Rights," at 1 p.m., Friday, April 11, 2008 at Drake Law School, Room 213.
For more information about the Constitutional Law Center at Drake, visit the Web site. For more information on the Distinguished Lecture Series, contact Drake Law School at 515-271-2988.