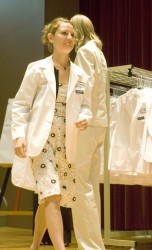 Sally Haack, PH'02, assistant professor of pharmacy practice, cloaks Dorothy Chrzaszcz with her white coat at the White Coat Ceremony.
Alumni key in welcoming students to Drake's professional pharmacy program
Drake alumni are starting a new tradition of providing students with white lab coats to which mark the beginning of the students' professional career and Doctor of Pharmacy program.
When Dorothy Chrzaszcz, P1, received her white coat in August, she felt like member of the professional community — thanks to her sponsor, Susan Shields, PH'83, a pharmacist at Iowa's Fort Dodge Correctional Facility.
"This sponsorship reverberates the success of Drake University's College of Pharmacy and the community of pharmacy professionals that emerge from the program," said Chrzaszcz of Mt. Prospect, Ill. "It made me realize that I was beginning a new part of my life."
Shields and other pharmacy alumni sponsored students who were inducted into the professional pharmacy program at the annual White Coat Ceremony in late August. The white coat is a symbol of their rite of passage into the pharmacy field, as well as a tool these students will use throughout their career. This special sponsorship allows alumni sponsors to welcome students into the professional practice.



"Students have joined an important group of other people who chose the same path they did," Shields said.
Chrzaszcz is thankful for the new professional friendship that the white coat sponsorship program brought to light. Shields provided her contact information in the pocket of the white coat, and encouraged Chrzaszcz to come to her with any questions or concerns. Chrzaszcz said she feels comfortable asking Shields questions and looking to her for advice.
"It's an important way to stay connected with Drake and with the College of Pharmacy," Sheilds added. "It also provides a way to be supportive of the students without being overly intrusive. They're busy people just like we are!"
To help inspire pharmacy alumni and express the importance of the White Coat Ceremony and sponsorship, Kristin Crowley Hennenfent, PH'02, wrote a letter to fellow alumni to ask for their help in continuing the tradition.
In her letter, Hennenfent said, "I believe all Drake pharmacy alumni are part of the same community. The hard work and dedication that goes into earning a pharmacy degree is a significant achievement."
Shields said it is important to all alumni to consider sponsoring a student, and although the contribution is small, it is a fortune to a new pharmacy student. "We can't all afford to endow teaching chairs or outfit libraries, but we should be able to start a student out right with their first real pharmacy coat," she said.
This was the first year of the White Coat program, and the sponsorship cost is $50, which provides the white coat, a name badge and covers other related expenses for an incoming P1 student. The College of Pharmacy and Health Sciences hopes to make it annual tradition. To sponsor a student who will join the professional program in the fall of 2008, or for more information about contributing to the White Coat program, contact Laura Sauser at 515-271-4049 or laura.sauser@drake.edu.