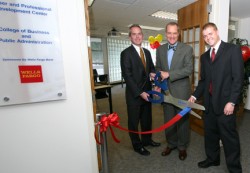 From left: Scott Johnson, Charlie Edwards and Craig Kearney team up for the ribbon-cutting ceremony.
Drake students gain Career and Professional Development Center
Drake University business students have gained a new resource to help them secure internships and professional positions — the Career and Professional Development Center in Aliber Hall made possible by a partnership with Wells Fargo Bank, led by Drake alumnus Scott Johnson.
Students, faculty and staff in Drake's College of Business and Public Administration gathered to dedicate the new center on Thursday, Sept. 20.
"This is a special event for us, and this makes the College of Business and Public Administration special because we're getting students ready to have successful careers and lives," said Charlie Edwards, dean of college and the School of Journalism and Mass Communication. "Scott Johnson and Wells Fargo have been very supportive of this program and enabled us to take our career focus to the next level."
Craig Kearney, a senior marketing and finance major from Olathe, Kan., said students are grateful for Johnson's support and Wells Fargo's initial gift and multi-year commitment. "Students are excited about this center and this center really makes Drake a great place to be," he added.
Johnson, a native of Morning Sun, Iowa, and regional president of Wells Fargo Bank in Iowa and Illinois, received his bachelor's degree from Iowa State University and his MBA from Drake.
"It has been a great relationship with Wells Fargo and Drake," Johnson said. "This center will provide students with the chance to research jobs, hopefully in the Des Moines market. We are pleased with this partnership."
Just one of the benefits of this multi-functional space is that students will have access to the University's Online Career bluePrint system on wireless laptop computers. "With the introduction of Career bluePrint, employer on-campus recruiting is coordinated on the system as well as job postings. It is an easy system to navigate and an excellent tool for employers to find outstanding candidates," said CBPA Career Services Manager Annette Watson.
The center also offers a place for students to get career counseling, work on resumes, research companies and peruse internships and full-time employer listings and salary information. Employers are welcome to use the center to recruit and interview students.
"This is a win-win situation for all parties," Watson added. "The College of Business and Public Administration is focused on helping students with career planning and obtaining real world experiences. The faculty supports the Career Center, which compliments the college's mission: 'To educate effective business and professional leaders by bringing the world into the classroom and taking the classroom into the world.'"