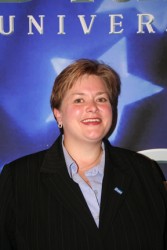 Rachel Paine Caufield
Drake launches Iowa Caucus Project
With fewer than 100 days remaining until the first-in-the-nation Iowa caucuses, presidential campaigns are revving into high gear across the state, and Drake is launching the Iowa Caucus Project.
The project aims to engage students, encourage participation in the political process, provide a public forum to discuss issues and foster opportunities for the Drake community to gather for campaign events.
"Our goal is to increase student access to and awareness of the presidential campaigns," said Rachel Paine Caufield, associate professor of politics and coordinator of the Iowa Caucus Project.
The project's Web site at www.drake.edu/iowacaucus offers a wealth of resources:
Information about internship, job and volunteer opportunities with the candidates, political parties and interest groups
Pictures, stories and reports from the campaign trail, filed by Drake students
The new My Prez program, which encourages students to attend political events on campus
A list of campaign events in and around Des Moines that's updated twice a week
A directory of all the presidential candidates and their local offices
Accounts of how the campaign for the White House is unfolding in Iowa are provided by 20 students enrolled in a new politics course taught by Arthur Sanders, professor of politics and chair of the Department of Politics and International Relations. The course on the Presidential Nominating Process requires students to complete a three-credit caucus-related internship and to submit news, reports and photos about their internship experiences for the class blog.
In the next week, the best of the blog will be featured on the Iowa Caucus Project Web site, where visitors will be able to add their own comments and voice opinions.
Ten of the 20 students in the course are interning for Democratic candidates Joe Biden, Hillary Clinton, John Edwards, Barack Obama and Bill Richardson. Eight students are interning for Republican candidates Sam Brownback, Rudy Giuliani, Ron Paul, Mitt Romney and Fred Thompson. The other two students are interns for Drake's Iowa Caucus Project and IowaPolitics.com, an independent, nonpartisan online news service.
"The internships give students firsthand experience with grassroots organizing, voter contact, event planning and, in many cases, dealing with the news media," Sanders said. "The students learn from working in a presidential campaign and from studying in class the way in which we choose our presidents. By having students involved with 10 different campaigns, we get a collective wisdom that goes well beyond what you can get in a single class or from one campaign."
The Iowa Caucus Project is partnering with IowaPolitics.com to sponsor question-and-answer sessions with presidential candidates. So far, Republican Mike Huckabee and Democrats Bill Richardson and Joe Biden have participated. Additional events with candidates are being organized this fall.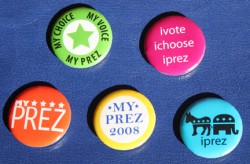 Colorful campaign buttons have been created for the My Prez program.
To encourage students to turn out to meet the candidates when they
visit campus, the Iowa Caucus Project has developed the My Prez program
in cooperation with the Student Life Center and the Donald V. Adams
Leadership Academy. Students will receive a different My Prez campaign
button each time they attend a campus campaign event that's part of the
My Prez program.
Students who collect eight pins will be eligible to enter a drawing to
win an iPhone. Those with five pins may enter in a drawing for an iPod.
The winners will be announced at a forum early in the spring semester
that will include a recap of the Iowa caucuses and the kickoff of
Drake's new Engaged Citizen Experience program.
Although the fall semester ends in December, students in Sanders' class
will have a few more assignments to complete in connection with the
Iowa caucuses, now scheduled for Jan. 14, 2008. They'll write a final
paper summarizing what they learned from their internships and their
recommendations for improving the presidential selection process.
Sanders also plans to organize a panel discussion for his students to
talk about their experiences on the front lines of presidential
campaigns in Iowa.
"Drake is a great place to study politics because we're in the state
capital and the largest city in the state," Sanders said. "There are
lots of opportunities to work in state agencies and government offices.
On top of that, during one of their four years at Drake, each student
gets to experience the Iowa caucuses."