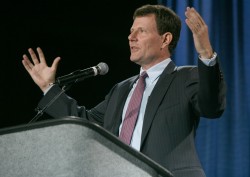 Kristof addresses tribal conflict and government policy in Darfur.
New York Times columnist Nicholas Kristof brought the terrors of Darfur home to the Drake community in his lecture "Why Troubles in Darfur and Other Parts of the World Matter to Us," on Sept. 25, as part of the annual Martin Bucksbaum Distinguished Lecture series.
Kristof began his talk by graciously thanking the Drake for Darfur student organization for its efforts and leadership. The organization will work throughout the year with Des Moines for Darfur to help plan events to raise awareness about genocide in Darfur, including a campus training on how to pose questions about Darfur to presidential candidates. The group will also work with A Student Anti-Genocide Coalition (STAND) and Ask The Candidates to help plan the campus training.
"We're thrilled about Kristof's lecture, and the excellent opportunity it provided to focus our campus' attention on the issue and recruit more people to join Drake for Darfur," said Molly Spellman, a second-year law student and organizer of Drake for Darfur. "Although I didn't know Kristof was going to plug Drake for Darfur in his lecture, I'm so grateful and excited that he did, as it provided a tremendous amount of energy to help jumpstart the group. Kristof's lecture sparked awareness and generated an entirely new crop of advocates to help put an end to the current genocide in Darfur."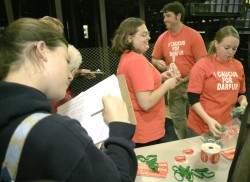 Drake for Darfur students encourage people to bring Darfur to the attention of presidential candidates campaigning in Iowa.
Spellman and other Drake students, who are working to build Drake for Darfur, provided information and 150 "I Caucus for Darfur" T-shirts at the lecture for free to people who committed to wearing them during campaign events.
Kristof said it is groups like Drake for Darfur that have helped keep millions of people alive in Darfur and other parts of Africa, and these groups and Iowans specifically can use their voice during the caucuses to bring Darfur to the attention of presidential candidates.
"As Iowans, we have a distinct and significant voice as spokespersons for our country in the months leading up to the caucuses," Spellman said. "We've got to educate and advocate immediately, to help put an end to the first genocide of the 21st century."
Kristof educated the audience about the history of strife in Darfur, specifically the tension and competition between Arab and non-Arab tribes and the government policy to encourage genocide, rape and other atrocities through actions of the militia group called the Janjaweed.
Graphic images of victims and survivors of this government policy may have turned some eyes away at the lecture, but Kristof told the story of millions of people through a handful of faces.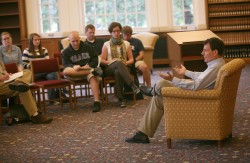 Students, faculty and staff talk with Kristof during informal discussion before lecture.
During an informal discussion with Drake students and faculty before the lecture, Kristof admitted to using this method out of desperation to illuminate issues hiding in the shadows of what is important to mainstream news media, government officials and the general public.
"I've pushed some of the limits pretty far," Kristof added. "I do it out of desperation, and hope to drag people into the issue that they might not care about. I tell a larger story through an individual."
Later in the lecture, he said, it is an ethical responsibility for U.S. citizens and members of a globalized world to care about Darfur and other troubles occurring in the world. "We have values and an ethical responsibility that we share our humanity but not our good fortune," he said, before presenting a slide show of photos from his trips to villages in Darfur. Kristof remembered each person's name in the photos and told his or her story — many ended in death, but a surprising number had inspiring elements.
Kristof emphasized that he's seen terrible things, but there are countless stories of courage and bravery — and above all, there is hope for Darfur — as he mentions plans for his next trip. He said, ending the genocide is possible if the United States puts pressure on other countries, such as China, that depend on oil from this area and supply arms to Darfur.