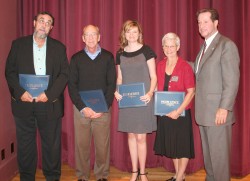 Dee Wright, Hans Hanson, Gloria Lawless, Ericca Pollack and Drake President David Maxwell.
Three members of the Drake University staff were awarded Madelyn M. Levitt Awards on Thursday, Sept. 20, at the annual Fall Faculty and Staff Convocation in Sheslow Auditorium in Old Main.
Hans Hanson, director of campus security, and Gloria Lawless, program assistant with the Drake Student Life Center, are 2007 recipients of the Madelyn M. Levitt Employee Excellence Award. Dee Wright, director of Drake's Counseling Center, received the Madelyn M. Levitt Distinguished Community Service Award. The awards were established by Levitt, a Drake trustee and special assistant to the president for development.
Hanson, a resident of Ankeny, has been dedicated to keeping the campus safe for faculty and students since 1991. Hanson was a key member in helping out with new events on campus this last year, including the ABC Presidential Debates in August, the MVC track event and area high school football games. He has showed leadership and initiative in modernizing the security operation as it moved to 25th Street, researching security systems for the campus and planning the installation of cameras in Drake parking lots.
The lead Secret Service agent in charge of the Drake ABC Presidential Debates commended Hanson's work. "I received numerous favorable comments from my superiors regarding the security of the site, as well as the professionalism of the Drake security personnel," the agent said in a letter.
Lawless, a resident of Des Moines, shows a high level of service in whatever she does, whether it is handling residence hall mail or participating in the Giving Tree project, which provides local families in need during the holiday season with gifts. She is also involved as a member with the All Staff Council Special Events Committee. In addition, she helps students get the information they need.
"Every office or department that uses Olmsted Center has somehow been helped by Gloria," said Lawless' nominator.
Wright, a resident of Johnston, received the Community Service Award because of his deep commitment to service among the Drake and Des Moines community. He is active in the Iowa Homeless Youth Centers, an organization that helps runaway and homeless youth, and has served on the IHYC Community Advisory Board for three years. As a board member, he's taken a role in the IHYC's "Reggie's Sleep Out," an annual fundraiser at Drake Stadium that aims to raise not only money, but the awareness of youth homelessness. Wright has encouraged the Drake community to join him in community service, and also volunteers for the Iowa Disability Determination Services and the Iowa Division of Workers' Compensation. Wright also serves as a clinical supervisor for psychology doctoral candidates at Simpson College and also mentors counselors in the Drake community.
Wright's nominator described him as a "servant leader," who empowers people by leading with passion and integrity by example.
In addition, the President's Cabinet created an additional award to recognize exceptional employee planning and service with enrollment growth. Ericca Pollack, director of residence life, received the award for her exceptional service as Drake prepared for its largest entering class since 1981.
Pollack was deeply involved with the renovations of residence halls, helped select the project developer for Drake West Village and served on the parking committee and emergency response committee. She created new strategic solutions to accommodating the large incoming class to house 911 first-year students, and continued to keep Drake's promise of an exceptional learning and living environment. Pollack also worked closely with staff and students to plan and develop Welcome Weekend programs.
Drake's President David Maxwell delivered the ninth annual "state of the University" address, which highlighted accomplishments such as the high enrollment numbers, a budget surplus, campus and residence hall renovations, the addition of the International Property Center and Peter Yu, the collaborative project for Drake West Village, high scores in national college rankings, winning sports seasons and the hosting of the nationally televised ABC Presidential debates.
In addition, President Maxwell outlined goals for a fundraising campaign and challenges for the University. He spoke about last year's graduating seniors and their request for him to talk about what he thought was important at the graduation ceremony. Maxwell addressed faculty and staff with the same idea as he did with graduating seniors, which challenged the Drake community to learn how to argue opinions and views and engage in public debate with an open mind to the opinions of others.
"A truly reflective, thoughtful person welcomes intelligent and respectful challenges to his or her beliefs — in responding to the challenge, you'll either strengthen your belief, or discover that perhaps that there's something better," said President Maxwell. "Either way, you grow and mature as a person – your universe expands, and you'll do a better job of occupying your place in it."



President Maxwell closed his speech by expressing his gratitude to the friendships and support of the Drake family and for its dedication to students and the community.