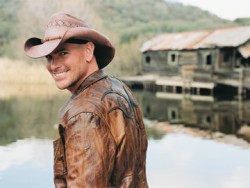 Country music star Keith Anderson
Country music star to perform for Drake Homecoming
Country music star Keith Anderson performed at Drake University's 2007 Homecoming concert on Wednesday, Oct. 3, at the Drake Knapp Center.
Anderson's latest album, "Three Chord Country and American Rock 'n Roll" starred on the charts with hits "Pickin' Wildflowers" and "Every Time I Hear Your Name." In his collaboration with country music legend Garth Brooks, Anderson produced "Beer Run," which was nominated for a Grammy. He also released singles "Sunday Morning in America" and "Lost in This Moment."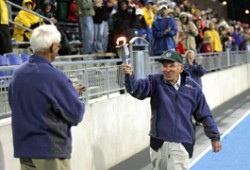 Paul Morrison carries the torch at the Drake Relays.
The Homecoming Game at 1 p.m. Saturday, Oct. 6, will pit Drake against Butler University in Drake Stadium, 2719 Forest Ave. The festivities will begin at 11 a.m. with a tailgate party and picnic on the stadium's North Plaza. At the pre-game celebration, Drake will salute its mighty 1957 Sun Bowl team and celebrate the life and legacy of Drake Athletic Historian and Consultant Paul Morrison, a 1939 Drake graduate who recently marked his 90th birthday.
Tickets for the tailgate party and picnic are $15 per person, and tickets for game are $10 per person. Fans must have a game ticket to enter the stadium. Tickets for both events are available through the Drake Athletic Ticket Office at 515-271-DOGS.