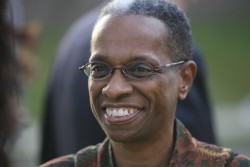 Wanda Everage, LA'72
More than 150 African-American alumni and students socialized, networked and explored ways to keep connected with each other and the University during a special reunion Sept. 28-30 themed "With Pride and Purpose."
Attendees enjoyed an informal gathering at the Black Cultural Center, campus tours, and numerous opportunities to share their ideas about alumni "life after Drake." The alumni and student banquet on Saturday, Sept. 29, featured an energizing invocation by Pastor Larry Harris Sr., FA'78, of Cleveland's Mount Olive Missionary Baptist Church, performances by alumni and students in the Drake Gospel Choir, and a keynote speech by Kittie Weston-Knauer, ED'70, GR'73.
Alumni and students further celebrated with a morning session on Sunday, Sept. 30, led by Gerald "Jay" Hill, AS'93, and highlighted with a talk by Wanda Everage, LA'72, vice provost for student affairs and academic excellence.
The reunion was co-chaired by Kelly Redmond, JO'90; Valerie Warnsby, BN'91, and Joe Welcome, GR'84. A video slideshow of the weekend activities is available here.
Alumni are invited to begin planning the next African-American Alumni Reunion by contacting Barb Dietrich Boose, director of alumni and parent programs, at 515-271-3077 or barbara.boose@drake.edu.