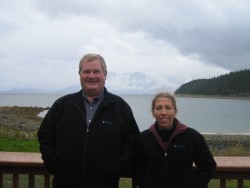 Dan Hobson, GR'88, and Maggie Buttweiler Blehert, JO'06, cruise near Auck Bay, not far from Juneau, Alaska.
Here's a story of two Drake graduates who were educated at different times and who have very different backgrounds, but who are now working together: Dan Hobson, who earned his master of business administration degree in 1988, and Maggie Buttweiler Blehert, who earned her journalism degree from Drake in 2006.
Some years ago, Hobson ended his successful career as a programmer analyst with Hormel Foods at the Diamond Crystal Brands facility in Bondurant and Mitchellville, Iowa. Then, in late 2005, his career started up again – in an entirely different way; He opened a franchise business called SeaMaster Cruises, part of worldwide travel and hospitality giant Carlson (known for brands like Carlson Wagonlit Travel, TGIFriday's, Radisson Hotels, Regent Seven Seas Cruises, and Country Inns & Suites by Carlson). Hobson worked with the Drake Office of Alumni and Parent Programs to offer the first-ever Drake alumni cruise next February to locations through the southern Caribbean.
Blehert joined Carlson in 2004, after starting her career as a TV news producer. She works in Carlson's public relations department and supports the SeaMaster Cruises franchise network. In her role of working with new franchise owners, Blehert was delighted to learn that one of Carlson's franchise owners – Hobson – is a fellow Drake graduate.
In early September, Blehert and Hobson sailed along with the rest of the SeaMaster Cruises team on a Carlson networking convention to Alaska, aboard the Celebrity Infinity.
"It was a great opportunity for us to reconnect, continue building our relationships with other SeaMaster Cruises experts, and to brag that we both went to Drake," Blehert says.