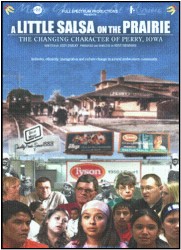 FOR IMMEDIATE RELEASE
Sept. 27, 2007
CONTACT: Jody Swilky, jody.swilky@drake.edu;

Tory Olson, 515-271-1834, tory.olson@drake.edu
'SALSA' DOCUMENTARY TO AIR ON IPTV OCT. 4
"A Little Salsa on the Prairie: The Changing Character of Perry, Iowa," an award-winning documentary by Jody Swilky, professor of English at Drake University, and Kent Newman, independent filmmaker and owner of Full Spectrum Productions, will premier on Iowa Public Television at 7 p.m., Thursday, Oct. 4.
The film explores changes in Perry that began in the 1990s when the largely white community experienced an influx of Latino workers and their families. Many of these workers traveled to Perry from Texas, California, Mexico and Central America to work in the local meat packing plant. In 10 years, Perry's Latino population increased from 47 to 1,873, with Latinos accounting for 24.5 percent of the population by 2000.
Swilky presents a historical look at Perry through his film with a focus on immigration, ethnicity and industry, specifically the presence of the meat packing plant as the major employer during the 1960s and the rise and fall of the railroad. The film also addresses the impact of Latino immigration on the economy, society and physical environment in Perry.
The film, which received a Gold Eddy Award in the Professional Documentary category at the Cedar Rapids Independent Film Festival, has seen 16 screenings this year, and premiered at Drake in February 2007. The title is based on a play on words from "Little House on the Prairie" by Laura Ingalls Wilder.

DVD copies of "A Little Salsa on the Prairie" are available for $25 (direct sales) and $30 (including shipping in the continental United States). To order, contact Newman at fullspectrum@mchsi.com or 515-883-1230.
For more information on the film's premier on IPTV, visit the IPTV Web site. To arrange a special screening of the documentary, contact Newman or Swilky at jody.swilky@drake.edu. Additional information about the town of Perry is available online.