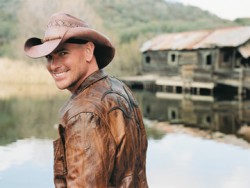 Country music star Keith Anderson will perform at Drake's 2007 Homecoming.
CONTACT: Katherine Liljegren, Katherine.liljegren@gmail.com

Tory Olson, 515-271-1834, tory.olson@drake.edu
COUNTRY MUSIC STAR TO PERFORM FOR DRAKE HOMECOMING
Country music star Keith Anderson will perform Drake University's 2007 Homecoming concert at 8 p.m., Wednesday, Oct. 3, at the Drake Knapp Center, 2525 Forest Ave.
Anderson's latest album, "Three Chord Country and American Rock 'n Roll" starred on the charts with hits "Pickin' Wildflowers" and "Every Time I Hear Your Name." In his collaboration with country music legend Garth Brooks, Anderson produced "Beer Run," which was nominated for a Grammy. He also released singles "Sunday Morning in America" and "Lost in This Moment."
Tickets, which are general admission, cost $15 for the general public and $5 with a valid Drake ID. Tickets are available through IowaTix at 515-277-3727 or online.
The Homecoming Game at 1 p.m. Saturday, Oct. 6, will pit Drake against Butler University in Drake Stadium, 2719 Forest Ave. The festivities will begin at 11 a.m. with a tailgate party and picnic on the stadium's North Plaza. At the pre-game celebration, Drake will salute its mighty 1957 Sun Bowl team and celebrate the life and legacy of Drake Athletic Historian and Consultant Paul Morrison, a 1939 Drake graduate who recently marked his 90th birthday.
Tickets for the tailgate party and picnic are $15 per person, and tickets for game are $10 per person. Fans must have a game ticket to enter the stadium. Tickets for both events are available through the Drake Athletic Ticket Office at 515-271-DOGS.