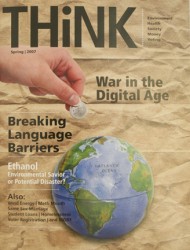 News-Internet and magazine majors produce THiNK, a new magazine for their senior capstone project.
CONTACT: Kathleen Richardson, 515-271-2295, kathleen.richardson@drake.edu;

Tory Olson, 515-271-1834, tory.olson@drake.edu
DRAKE MAGAZINES AND STUDENTS FINALISTS FOR NATIONAL AWARDS
The Associated Collegiate Press has named two of Drake University's School of Journalism and Mass Communication student magazines as finalists for the ACP 2007 Pacemaker awards for magazine excellence.
In addition, three Drake students dominated the ACP nominations for individual awards for magazine design.
"This is an honor for the magazine sequence and speaks highly of the quality of our program," said Angela Renkoski, assistant professor of journalism and director of the E.T. Meredith Magazine Center for Magazine Studies at Drake.
The overall magazine finalists are 515, an annual Drake magazine capstone project for magazine seniors about the Des Moines area, and THiNK, a new magazine produced by a joint news-Internet and magazine capstone class. 515 was directed by adjunct instructor Lori Blachford, and THiNK was co-taught by Jill Van Wyke, assistant professor of news-Internet and Patricia Prijatel, former director of the School of Journalism and Mass Communication, the center and the E.T. Meredith distinguished professor of journalism. These publications were two out of 15 finalists selected for the Pacemaker award for overall magazine publication, and no other school had two finalists.
"I always consider the Pacemaker awards the crème de la crème of student journalism," said Van Wyke. "Just being a finalist is an extraordinary accomplishment, and I'm delighted that 515 is in there, but for THiNK to make it as a finalist the first time is extraordinary."
In addition to the nominations for overall excellence, three of five finalists for the ACP individual design of the year award are from Drake and represent the College of Arts and Sciences with majors and minors in art, design and graphic design. Lauren Christie, a 2007 graduate, is a finalist for THiNK magazine, and Leah Marr, also a 2007 graduate, is a finalist for 515 magazine. Laura Kudia, a junior magazine major, is a finalist for Drake Magazine, the biannual student-run magazine.
"We had a wonderful creative mix of magazine and news-Internet majors, and I am just in awe of what students accomplished last semester starting a brand new magazine," said Van Wyke. "They were supremely talented, energetic and creative. There was not a weak link in the group."
The ACP gives out awards for magazines, newspapers and online publications, as well as individual student awards for stories, reporters, photography, design, cartoons and advertising. The 2007 winners will be announced at the National College Media Convention in Washington, D.C., Oct. 24-28.
For more information on ACP, visit the Web site. Additional information about the magazine program at Drake is available online.