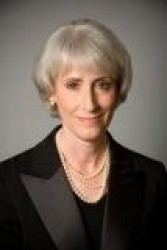 Wendy R. Sherman
CONTACT: David Skidmore, 515-271-3843, david.skidmore@drake.edu;

Lisa Lacher, 515-271-3119, lisa.lacher@drake.edu
Wendy R. Sherman, a recognized expert on national security issues, will discuss "The Costs of War" in a free public lecture at Drake University on Tuesday, Sept. 25. The lecture will start at 12:30 p.m. in Bulldog Theater in Olmsted Center, 2875 University Ave.
Sherman is a former counselor and chief troubleshooter for the State Department, as well as special adviser to President Clinton and policy coordinator on South Korea. She is now a principal of The Albright Group LLC and Albright Capital Management LLC, both of which are named after former Secretary of State Madeleine K. Albright. The Albright Group is made up of international negotiators and seasoned diplomats with decades of experience managing organizations with tens of thousands of employees. Albright Capital Management LLC, an investment advisory firm, is focused on emerging markets.
Sherman leverages her experience as a senior-level diplomat and her expertise in foreign relations to help clients -– including businesses and nongovernmental organizations -– locate partnership opportunities, gain competitive advantage in the marketplace and resolve regulatory and political disputes throughout the world. A seasoned strategist and organizer, she is skilled at engaging stakeholders and building broad coalitions. Her diverse client portfolio includes a particular focus on Asia, the Middle East and Russia.
In addition, Sherman serves on the Board of Directors of Oxfam America and the Board of Advisors for the Center for a New American Security. She also is a member of the Council on Foreign Relations and the Aspen Strategy Group
Sherman's lecture is part of a lecture series on "America's Role in the World" sponsored by Drake's Center for Global Citizenship. The series will continue throughout the fall semester. For more information about the upcoming lectures, call 515-271-3843 or visit the center's Web site.