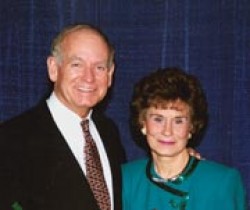 Robert D. and Billie Ray
CONTACT: Lisa Lacher, 515-271-3119, lisa.lacher@drake.edu
With classes ranging from astronomy to the impact of the Iowa caucuses, Drake University's Billie and Robert D. Ray Lifelong Learning Society provides learning opportunities in a college atmosphere to senior citizens throughout the fall semester. The courses are designed to engage students in cultural and intellectual discussions so as to promote ongoing learning.
As presidential candidates crisscross the state, the RaySociety will take a behind-the-scenes look at the Iowa caucuses. The Iowa Caucus — Beyond the Hoopla and Glitz, will cover caucus history, past memorabilia, local economic impact and media coverage. The sessions are as follows:

Monday, Nov. 5: The Economic Impact of the Iowa Caucus

Greg Edwards, president and CEO of Greater Des Moines Convention and Visitors Bureau

Monday, Nov. 12: Assessing the Process and Candidates

Dennis Goldford, Drake professor of politics

Monday, Nov 19: Media Coverage and Its Impact

Herb Strentz, retired Drake journalism professor and community activist

Gil Cranberg, former editorial page editor of the Des Moines Register

Tuesday, Nov. 27: Caucus Iowa Exhibit at the State Historical Building

Attorney Steve Roberts, national committeeman for the Republican Central Committee of Iowa
The RaySociety takes it name from a pair of distinguished Drake alumni: former Iowa Gov. Robert D. Ray, who also served as the University's president, and Billie Ray, former first lady of Iowa and a former teacher. Membership in the RaySociety costs $50 a year plus an additional $25 per course fee. Classes, consisting of three to six sessions held Monday through Friday, are taught by volunteer instructors from current and former Drake University faculty, from the society membership and the community.
To join the RaySociety or obtain more information, contact Teresa Bartschat at 515-271-1847. The entire fall class schedule is posted on the RaySociety Web site, which includes a registration form.
Additional classes offered this fall include:

Astronomy: Ventures Beyond Our Solar System – Part 1



This course, starting Sept. 20, investigates three revolutions of cosmology, beginning with Nicolas Copernicus' publication titled "On the Revolutions of Heavenly Spheres."

Instructor: Sam Wormley, associate scientist, Iowa State University.
Bible Books Most of Us Never Knew



This course, which begins Oct. 10, explores the so-called "lost books of the Bible," including the intertestamental books of the Apocrypha, the disputed and rejected books of early Christian sects and heretical groups; and ancient and modern forgeries.

Instructor: Fred Gee, an amateur archaeologist and retired Disciples of Christ minister
Exploring Personal Puzzles and Paradoxes



This course, starting Oct. 3, will focus on ethics and religion while analyzing methods for differentiating between right and wrong.

Instructor: Donald Keyworth, Drake professor emeritus of philosophy
Genealogy – A Search for Your Ancestors



This series is designed to help participants learn to use the basic tools and techniques of genealogical research to trace their ancestral lines. Each session will be followed by the opportunity to use the Iowa Genealogical Society library under the guidance of IGS members

Instructor: Theresa Liewer, president of Iowa Genealogical Society.

History of Radio and Television



This course, starting Oct. 1, examines the evolution of the culture of electronic communication via commercial radio and TV, focusing specifically on the development of programming, corporate ownerships, principles of news gathering, FCC guiding principles and legal issues involved in commercial broadcasting.

Instructor: Michael Newell, senior producer for Iowa Public Television.

Iowa's Historical Changes and Challenges



This course, which starts Oct. 4, will cover the Underground Railroad in Iowa, Iowa's Civil War soldiers, how baseball came to Iowa in the 19th century and how the state enforced Prohibition in the early 1930s.

Instructors: History professors Galin Berrier, Dennis Kellogg, John Liepa and Lisa Ossian of Des Moines Area Community College.
The RaySociety also sponsors numerous social activities. The fall schedule is listed below:

Sept. 25: Bucksbaum Lecture: "Why Troubles in Darfur and Other Parts of the World Matter to Us" by New York Times columnist Nicholas Kristof, 7:30 p.m., Drake Knapp Center
Sept. 29: RaySociety Tailgate and Drake Football Game, 1 p.m., Drake Stadium
Oct. 17: Tour of Salisbury House, 1 p.m., Salisbury House, 4025 Tonawanda Drive
Dec. 4, 5: The Holly and Ivy Tour at Terrace Hill, 2 p.m., Terrace Hill, 2300 Grand Ave.
Nov. 18: Cavalcade of Drake Choirs Concert, 3 p.m., Jordan Stage, Sheslow Auditorium in Old Main
Dec. 9: Madrigal Dinner, 7 p.m., Olmsted Center, 29th Street and University
To attend any of these events, contact Rena Wilson at 515-271-2120 or rena.wilson@drake.edu.