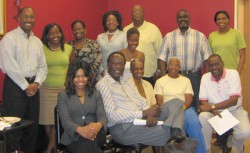 Yukio Phillips, Dolph Pulliam, Wanda Everage, Kittie Weston-Knauer, Udell Cason, Cain Hayes, Syeta Glanton, Michele Howard, Romonda Belcher Ford, Drake student Jharmaine Boyd, Wayne Ford, Gerald Hill and Krista Ferguson helped plan the reunion.
Drake University invites alumni and friends to return to campus to reconnect with each other and with the University at the African American Alumni Reunion on Sept. 28-30.
"I am eager to see the latest changes on campus since I was there a few years ago," said Kelly Redmond, a 1990 graduate and member of the reunion planning committee. "It's definitely a different place, largely due to many of the alums that have continuously supported Drake over the years. We're expecting a wonderful turnout, and we have some fun yet meaningful activities planned that are interactive, purposeful and memorable."
A list of reunion weekend highlights, suggested hotels and other information about the reunion is posted on the Drake alumni Web site. Alumni may also contact Barbara Dietrich Boose, director of alumni and parent programs, at 1-800-44-DRAKE, extension 3077; 515-271-3077; or barbara.boose@drake.edu.
There is no cost for students who are interested in participating in reunion activities, but an RSVP to the Office of Alumni and Parent Programs is required at 271-3147 or alumni.rsvp@drake.edu.
Drake is a private, independent university in Des Moines, Iowa, with more than 5,300 undergraduate and graduate students from 45 states and 60 countries. Drake is ranked among the top master's universities in Midwest for academic quality and value by U.S. News & World Report and Kiplinger's Personal Finance.