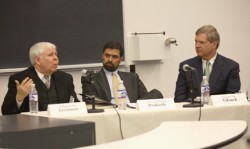 Sandy Levinson of the University of Texas Law School, Saikrinda Prakash of the University of San Diego Law School and former Iowa Gov. Tom Vilsack spoke at the constitutional law symposium on April, 7.
In its fourth annual collaborative issue with the American Judicature Society, the Drake Law School published the proceedings of their joint symposium on judicial selection and judicial independence.
The issue titled "Symposium on Judicial Independence: The Continuing Effect of White on State Judicial Selection," was nationally distributed and well received by both federal and state judges. The Drake Review is ranked 31st among more than 1,300 legal periodicalsin the frequency with which, over a seven year period, U. S. Courts cited the Review in their published opinions..
"I just completed a review of several of the articles included in the symposium addressing judicial elections," said Alexander Williams, U.S. district judge, District of Maryland. "Having previously served as an elected states attorney, the entire volume provided interesting and enjoyable reading."
Articles in the issue analyze the White decision, report on its impact on states, and address judicial recusal. Authors include Talbot D'Alemberte, former president of the American Bar Association and president of Florida State University; Roy Schotland, professor at Georgetown University Law Center; Thomas R. Phillips, former Chief Justice of the Texas Supreme Court, and Karlene Dunn Poll; James Bopp Jr., who argued the White case before the United States Supreme Court, and Anita Y. Woudenberg; and C. Scott Peters, professor at University of Northern Iowa, among others.
"I'm always grateful to receive scholarly overview of fields that touch our daily work," said Edith Jones, chief judge, U.S. Court of Appeals for the 5th Circuit. "This issue will be a worthwhile contribution to my resident library."
The previous three joint AJS/Drake Law Review symposium issues covered major and timely topics of preventing wrongful convictions, criminal justice reform, and the intersection of law and science.
Drake Law Review has enjoyed much success over the years and ranks among the nation's top law journals in a survey conducted annually by the Washington and Lee Law School Library which measures how frequently U. S. Courts actually cite articles and notes law reviews and journals publish. In a 10-year study, the Drake Law Review climbed rankings from123 to 83 from 1997-2007 when compared to other law reviews ranked by author prominence.
"All of us at the Law School are really pleased with and grateful for the partnership we have with the American Judicature Society, especially the symposium issue in the Law Review," said David Walker, dean of the Law School and the Dwight D. Opperman distinguished professor of law.