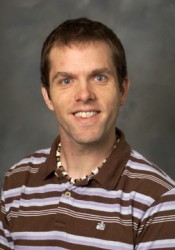 David S. Senchina
CONTACT: David Senchina, 515-271-2956, david.senchina@drake.edu;

Tory Olson, 515-271-1834, tory.olson@drake.edu

David S. Senchina, assistant professor of biology, will begin the fall season of the Drake University Science Colloquium Series with a presentation titled "Echinacea as a Potential Therapy for Offsetting Declines in Immune Function during Preseason Training in College Athletes."
DUSCI invites all Drake faculty, staff and students to the lecture from 12-12:50 p.m., Friday, Sept. 14, in room 206 in Olin Hall, 27th and Forest Avenue.
Senchina will discuss and review studies on how herbal supplements such as Echinacea can help boost the immune system to decrease risk of infection during prolonged, exhaustive exercise, especially associated with preseason sports training. Echinacea is specifically helpful in preventing upper respiratory infections, and the presentation will review in vitro and in vivo studies of the utility of Echinacea.
"One of the biggest factors that play a role in the effectiveness of the supplement is species selection," Senchina said. "There are 9 different species and each one has a different effect on the body. Processing factors such as drying time and liquid or solid supplement form have an impact on effectiveness, too."
For more information, contact Maria Bohorquez, director of DUSCI, at x2595 or dusci@drake.edu.