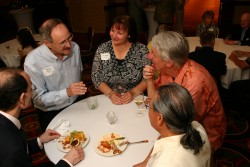 Michael Marks, Kerry and Lynne Pearson, Tom Levis and Fred Chavez from the class of '77 reconnect.
The award-winning Drake Jazz Band provided a colorful backdrop for the Law School Reunion this summer. Law grads reconnected with old friends on June 8-9 in Des Moines. On Saturday, alumni met for breakfast and toured the Law School and Legal Clinic with David Walker, dean of the Law School.
Alumni enjoyed a casual evening of hors d'oeuvres, beverages and conversation while music by the Drake Jazz Band played in the party room at the Downtown Marriott.
Another jazzy opportunity for Drake alumni is coming to the Dakota Jazz Club, 1010 Nicolett, Minneapolis. An evening of dinner and jazz with the Drake Law School is planned for Saturday, Sept. 15, with a reception at 6:30 p.m., dinner at 7:30 p.m. and Latin jazz entertainment by Nachito Herrera at 8 p.m.
Considered one of the world's greatest Cuban pianists, Ignacio "Nachito" Herrera was the musical director at the famous "Tropicana" in Cuba in his twenties. In the late 1990s, he joined the famed Cubanismo as its lead pianist, arranger, and musical director while cultivating a passion, talent and reputation in Latin jazz, a striking influence in his music today.
To join the night of music and camaraderie with the Drake Law School, please RSVP to Jennifer Allamby at 515-271-1877 or Jennifer.allamby@drake.edu. Cost is $25 per person.