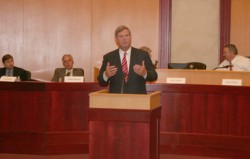 Former Iowa Gov. Tom Vilsack addresses the conference.
Nationally known legal scholars, attorneys and government leaders gathered Sept. 7, at Drake University Law School for a conference on risk and responsibility convened by former Iowa Gov. Tom Vilsack, a visiting distinguished professor of law at Drake.
The conference explored changing attitudes toward risk — who should be responsible for it, and how it can be measured and managed, including the role of insurance and the role of government. The proceedings will be published in an upcoming issue of the Drake Law Review.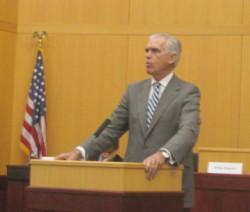 Philip K. Howard assails America's "lawsuit culture."
Philip K. Howard, a best-selling author and a partner in the international law firm of Covington & Burling, started off the conference with a presentation on "The Dynamics of Legal Risk."
He contended that America's "lawsuit culture" is making people risk averse — stifling innovation and undermining economic growth. He described opportunity as the flip side of risk and argued that it's often necessary to accept some reasonable risks in order to take advantage of opportunities.
Marc R. Stanley, former president of the Texas Trial Lawyers Association and Dallas Trial Lawyers Association, defended the current legal system, saying it provides the necessary means to redress the wrongs that occur "When Bad Companies Happen to Good People."
Also speaking at the conference were: Tom Baker, the Connecticut Mutual professor of law and director of the Insurance Law Center at the University of Connecticut School of Law, who discussed "Embracing Risk, Sharing Responsibility;" and David Moss, the John G. McLean professor at Harvard Business School, who discussed "When All Else Fails" — the role of government in risk management.
In addition, the conference included presentations and a panel discussion on "Defining, Measuring, Managing and Facing Risk" that featured Iowa Insurance Commissioner Susan Voss, Cedar Rapids Mayor Kathleen Halloran and Drake Associate Professor of Finance Tom Root.
Former Gov. Vilsack, attorney with Dorsey and Whitney, spoke at the conclusion of the conference, which he described as "stimulating and thought-provoking."
Vilsack then turned the discussion to the government's responsibility to deal with risks ranging from terrorism to infrastructure deficiencies to natural disasters. Despite the Sept. 11 terrorist attacks and Hurricane Katrina, the nation still lacks a structure or framework at the federal, state or even city level that would compel government officials to assess risks, make decisions based on those risks, accept responsibility and be held accountable for those decisions, Vilsack said.
For example, he said government officials who decided not to repair the levees around New Orleans in a way that would adequately protect the city from a Category 5 hurricane should have been forced to disclose that information to the public before Hurricane Katrina hit.
"Either there would have been a public demand that they change the method of repair," Vilsack said, "or at the very least more specific planning on how people would be moved from that dangerous area in the face of a Category 5 hurricane."
Vilsack urged conference attendees to raise the issue of risk assessment when they encounter presidential candidates campaigning in Iowa.
"Ask the candidates how they would set up a framework for decision-making that would allow us to identify the risk of terrible things before they happen," he said, "then decide how to prioritize them and address them and be truthful with the people.
"We need to tell them which ones we're going to deal with and which ones we're not —  so they, in turn, can make their own informed decisions about what to do. I think if we did that, we would have a much better system for dealing with risk and we would obviously be in a position to hold more people accountable and responsible."