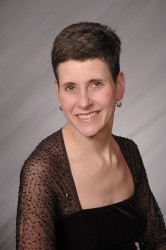 Aimee Beckmann-Collie
CONTACT: Aimee Beckmann-Collier, 515-271-2841, aimee.beckmann-collier@drake.edu;

Lisa Lacher, 515-271-3119, lisa.lacher@drake.edu
The Drake University/Community Chorus, conducted by Drake University Professor of Conducting Aimee Beckmann-Collier, is open without audition to all interested singers.
To join, attend the first rehearsal at 6:30 p.m. Tuesday, Aug. 28, in Monroe Recital Hall on the lower level of the Harmon Fine Arts Center, 25th Street and Carpenter Avenue. The chorus will rehearse weekly from 6:30 to 8 p.m. on Tuesdays.
This fall the chorus will perform a Nov. 18 concert focusing on Scandinavian music that will provide an opportunity for the singers to work with Robert Sund, one of Sweden's foremost musicians. For more information, call 515-271-2841 or send an e-mail message to aimee.beckmann-collier@drake.edu.