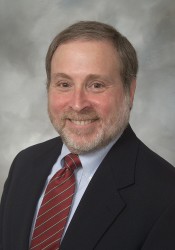 Dennis Goldford
CONTACT: Tory Olson, 515-271-1834, tory.olson@drake.edu
PROF. GOLDFORD FEATURED ON "THE DAILY SHOW"
Dennis Goldford, professor of politics at Drake University, was interviewed by CBS News before and after the Iowa Straw Poll in Ames, and then featured on "The Daily Show with Jon Stewart" on Tuesday, Aug. 14.
The interview with Goldford shown on "The Daily Show" had been taped by CBS News on Aug. 11 prior to the Straw Poll and posted at CBSNews.com. "The Daily Show" used the clip from the previous interview to explain the workings of the Straw Poll, which had reduced attendance this year, and was bypassed by candidates Rudy Giuliani and John McCain.
Goldford described the Straw Poll as an informal survey of opinions from Republicans who choose to attend the event. He said tickets are $35, and usually the campaigns buy tickets for voters in hopes that people will come out and support them.
"I was pleased with how the interview went at the time, but never expected to see it on Comedy Central," Goldford said. "Jon Stewart wasn't making fun of me, but seeing my picture frozen next to him while he was making a joke was a little unsettling. It was nice to get an email from one of the students I advise, saying she thought it was 'cool' that her adviser was on 'The Daily Show.'"
Goldford has done dozens of interviews with national news media in the last two weeks because of media interest in the presidential debates at Drake on Aug. 5 and Aug. 19. Yesterday, he talked with The New York Times and today's interview requests include National Public Radio.
"It's always fun," he said. "After the debate Sunday, we'll fall off the face of the earth until the news media return to Iowa to cover the presidential campaign this fall."
To view the video, visit the Comedy Central Web site, and look for the "Children of the Corn" video.
For more information, contact Dennis Goldford at 515-240-3676.