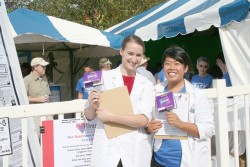 Sara Newton, left, and Marie Marcelino offer heartburn screenings and Prilosec on a stick at the Iowa State Fair.
CONTACT: Lisa Lacher, 515-202-1773, lisa.lacher@drake.edu
DRAKE STUDENTS OFFER HEARTBURN SCREENING, RELIEF ON A STICK
If everything you can eat on a stick at the Iowa State Fair seems to be sticking it to you, come see the pharmacy students at the Drake University booth in the Varied Industries Building for an appropriate remedy: a free heartburn screening — and a free sample of Prilosec on a stick.
Marie Marcelino and Sara Newton, both in their third year of Drake's Doctor of Pharmacy program, conducted free heartburn screenings as part of Drake Day at the Fair on Saturday, Aug. 11.
Drake students will be conducting additional screenings from 9 a.m.
to 9 p.m. today (Aug. 18) and Sunday, Aug. 19, at the Drake booth in space 805 of the Varied Industries
Building. The free screenings
are sponsored by Drake's College of Pharmacy and Health Sciences and
the American Pharmacists Association Academy of Student Pharmacists.
"Many of the most popular foods here at the fair have a high fat or acid content and are coded red for 'Stop, You may want to reconsider this choice' on the food guide published by the National Heartburn Alliance," Marcelino said.
"By handing out the guides and doing these screenings, we hope to make people more aware of how they can avoid heartburn by making good food choices," she added. "For people who have already eaten too many corn dogs or fried Oreos, we offer some relief by giving them free samples of Prilosec OTC."
In addition to heartburn screenings, Drake Day at the Fair featured a circus sideshow showcasing campus oddities and legends such as the world's largest Spike (Drake's bulldog mascot) along with Speck, the world's smallest bulldog. Alumni and friends received temporary Drake tattoos as well as vouchers for free tickets to athletic events. They also met Drake coaches and athletes and had free digital photos taken with backdrops such as Drake Stadium and Old Main.
To see highlights of Drake Day at the Fair, visit our online photo gallery.