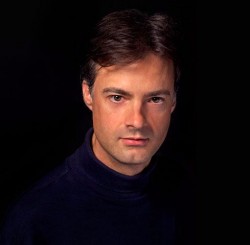 Nicholas Roth
CONTACT: Nicholas Roth, 515-271-2857, nicholas.roth@drake.edu. Tory Olson, 515-271-1834, tory.olson@drake.edu
Nicholas Roth, assistant professor of piano at Drake University, will perform an interdisciplinary event titled "Robert Schumann: The Influence of Multiple Personality on the Prose Writings and Musical Compositions," at 7 p.m., Tuesday, Sept. 4, in Sheslow Auditorium in Old Main, 2507 University Ave. In his lecture and recital, Roth will explore the role of music, literature and mental illness in Robert Schumann's life (1810-1856).
For Schumann, music really was his life. He was a Romantic composer, pianist, music critic and novelist who lived with dissociative identity disorder and experienced multiple personalities. Schumann's creative process personified the different personalities in his works of music and literature.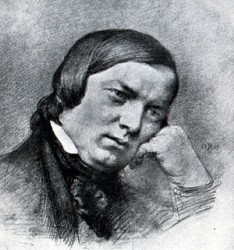 Robert Schumann (1810-1856), Romantic composer, pianist, music critic and novelist from the 19th century.
The event will begin with a lecture about the impact that Schuman's malady had on the music and literature he produced, and will conclude with Roth performing Schumann's "Carnaval," exemplifying the composer's multiple personalities. Composed in 1834, "Carnaval" is a cycle of 21 short pieces that represent Schumann's musical interpretation of people and events at a masked ball, Roth said. Two of Schumann's personalities, Florestan and Eusebius, come to life in the "Carnaval," among many other characters.
"This is a unique event. And to think that Schumann could harness multiple personalities in a positive way is fascinating," Roth said.
Roth began studying piano and music at the age of 12, and was critically acclaimed at 18. He received his doctor of music arts degree from Michigan State University, and a bachelor's and master's degree of music from Indiana University, where he also received the School of Music's highest honors including the Performer's Certificate and Joseph Battista Memorial Scholarship.
Roth has traveled throughout the United States, Germany and Spain, performing at recital series and festivals, including Sunday Afternoons Live from the Elvehjem in Madison, Wis., and the Irving S. Gilmore International Keyboard Festival. Roth was also a soloist for the St. Louis Symphony and Indianapolis Symphony.
Before joining the music department at Drake, Roth taught at the University of Wisconsin – Stevens Point and Alma College.
For more information, visit the Drake Web site or contact Nicholas Roth at 515-271-2857 or nicholas.roth@drake.edu. Nicholas Roth recordings can be purchased at the Blue Griffin Recording Web site.