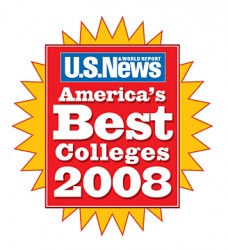 CONTACT: Lisa Lacher, 515-271-3119, lisa.lacher@drake.edu
Drake University climbed to fifth in the "Great Schools, Great Prices" rankings and improved its score for academic quality and overall score in the Midwest Master's Universities category of the 2008 edition of "America's Best Colleges," published by U.S. News & World Report magazine.
Last year Drake ranked seventh in the "Great Schools, Great Prices" category. The rankings are based on a formula that relates a school's academic quality, as indicated by its U.S. News ranking, to the net cost of attendance for a student who receives the average level of need-based financial aid. The 2008 rankings show 60 percent of Drake students receiving grants based on financial need. Drake students also receive tens of millions of dollars in scholarships based on academic merit, which are not calculated in this category.
In the new rankings, Drake maintained its No. 2 position in reputation for academic quality (peer assessment) and raised its score from 3.8 to 3.9. The University also increased its overall score from 84 to 86 while remaining fourth in the overall rankings of Midwest universities that provide a full range of undergraduate and master's programs. Drake improved in other areas as well, including average freshman retention rate, graduation rate and percentage of classes with fewer than 20 students.
"We're delighted that Drake continues to be recognized as one of the best institutions in the Midwest, and that our efforts to ensure that we are financially accessible are acknowledged as we move even higher on the 'Great Schools, Great Prices' list," Drake President David Maxwell said.
"Our mission to provide an exceptional learning environment drives everything that we do at Drake, and while we are grateful for the recognition by U.S. News & World Report and other national media, ultimately the most important feedback for us is the fact that our students, their parents and our alumni tell us that we are keeping the promise of that mission."
The University has a strong commitment to providing useful and clear information to its various constituencies. Drake provides a data book on the Drake Web site with statistics on enrollment, graduation and retention rates, tuition and fees, common fields of study, faculty profiles and diversity profiles.
Beginning in September, Drake will participate in an innovative consumer information initiative developed by the National Association of Independent Colleges and Universities. The new University and College Accountability Network (U-CAN) is designed to give, in a common format, prospective students and their families concise, Web-based, consumer-friendly information on individual private colleges and universities. Additional information about U-CAN is available online.
While colleges and universities strive to provide more information for consumers, U.S. News offers a comprehensive look at how 1,400 accredited four-year schools stack up based on a set of 15 indicators of excellence.
The 2008 U.S. News rankings will be published in the Aug. 27 issue of U.S. News & World Report magazine, which is scheduled to be on newsstands Monday, Aug. 20. The rankings also are available online beginning today (Friday, Aug. 17).