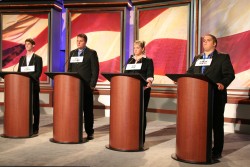 Student volunteers stand-in for presidential candidates at rehearsal before debate.
The forecast looked stormy like the weather on Sunday, Aug. 5, for the experience Drake student volunteers would have at the Republican presidential debate in Sheslow Auditorium. Even through the stress, fast work pace and lack of sleep, students recall a shining experience that resembled the bright Iowa sky that morning after the storm cleared.
When asked if he'd do it again, Brian Harrington, sophomore broadcast major from Hastings, Minn. said, "There's no question about if I'd do it again. This was the most amazing experience (from a broadcasting perspective) of my life. Working with top notch people at ABC and with Mr. Stephanopoulos was incredible, and I hope to be doing the same thing for the Democratic debates next week."
Emily Brady, sophomore radio and TV journalism major from Waterloo, Iowa, who worked as a stand-in for Des Moines Register columnist, David Yepsen, agreed that the experience was amazing. She said she worked long hours, didn't get much sleep and was under a lot of stress, but it was all worth it in the end.
"I was surprised at how hands on I got to be. I was not just getting coffee and sitting around, I was actually a part of the production process, and had very important jobs! It was amazing!" Brady said.
According to Kathy O'Hearn, executive producer of "This Week with George Stephanopoulos" and executive producer of ABC News' Iowa Debates, the debate did run smoothly thanks to student volunteers and the important role they played in the production process.
O'Hearn said, "We were so impressed with the caliber of the Drake student volunteers who worked with us. They were an essential force in putting together the ABC News Republican debate at your fine University. All dedicated self-starters, each one of these knowledgeable, courteous students went the extra mile whenever and wherever they could. They helped make our debate a smashing success. We look forward to working with these remarkable young people again for the Democratic Debate on the 19th."
The hands-on experience is just one reason why students volunteered for the presidential debates on campus. Students like Harrington hope that this experience will help shape his knowledge of his field of study and enhance his broadcast career as well.
"As a broadcasting student at Drake, this gave us a deeper look into how things go on behind the scenes," Harrington said. "I think we all had a little bit better understanding of how a big broadcast like this works…It made me feel like Drake is the perfect place to begin a broadcasting career, because we have similar things to what the professionals use in 'the real world'."
Harrington and Brady are two of a group of approximately 30 students who plan to volunteer for the Democratic presidential debate on Aug. 19. Marilyn Dean, fine arts facilities manager at Drake, said most of the students are returning for the second round of nationally televised presidential debates.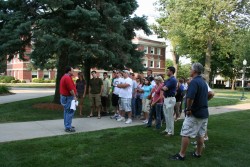 Senior producer Adam Belmar takes volunteers on a tour of facilities to prepare them before the Republican debate.
Student volunteers do everything from running errands to acting as stand-ins for candidates, to handing out credentials for the media, to greeting guests and acting as ushers during the debate. Although their individual jobs for the Democratic debate may change, student volunteers will work again with Adam Belmar, senior producer of "This Week with George Stephanopoulos," and Andrea Jones, ABC News' executive director of media relations.
The students said Belmar and Jones, along with other mentors and producers at ABC, assigned work to students and were very helpful answering questions and giving guidance, even during some of the most stressful moments. "It was a little surprising how everyone from ABC seemed like they had a million and one things to do," Harrington said, "and yet had everything under control at the same time."
Kayla Porter, a journalism student, said the most stressful moment for her was being in the green room right before the debate. "Giuliani was running late, Romney needed skim milk to go with his coffee and McCain needed his make-up done at the same time Giuliani did," Porter said. "I was running all over the place, trying to do my part so the debate would run smoothly."
To see highlights from the Republican debate, visit our online photo gallery.