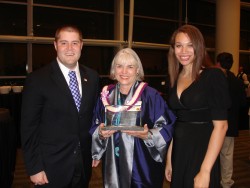 Drake SBA President Sean Bagniewski, outgoing American Bar Association President Karen Mathis and ABA Law Student Division Representative Erin Lain.
CONTACT: Lisa Lacher, 515-271-3119, lisa.lacher@drake.edu
The Student Bar Association at Drake University Law School recently received the SBA of the Year award from the American Bar Association/Law Student Division.
SBA President Sean Bagniewski and ABA Law Student Division Representative Erin Lain accepted the top award on Friday, Aug. 10, at the ABA annual meeting in San Francisco. The trophy will be displayed at orientation for entering law students later this week, then showcased in Opperman Hall and Law Library.
"It's a great honor for the SBA to win this major award," said Bagniewski, a third-year law student from Des Moines. "It reflects not just the work that the SBA has done, but all of the work we have been able to do with the administration and faculty of the Law School and the University. Together, we have had many achievements in the past year."
The SBA took a leadership role in promoting and supporting public service, ascertaining student concerns and making recommendations to resolve them, as well as working to enhance resources for 25 student organizations, among other contributions it made during the 2006-07 academic year.
"The award is great and deserved recognition of our SBA that follows on the heels of Drake coming in second for the SBA of the Year Award in August 2006," Law School Dean David Walker said. "These awards recognize the leadership, responsibility and many, many significant contributions that the SBA makes to the vitality and well-being of the Law School."
Lain, a second-year law student from Anchorage, Alaska, said she and Bagniewski were extremely proud to accept the award from the American Bar Association. "I think it recognizes what an excellent institution Drake Law School is, and how much students are a part of that excellence," she added. "The award sets a high bar for the current Student Bar Association, and we are excited to step up to that bar."